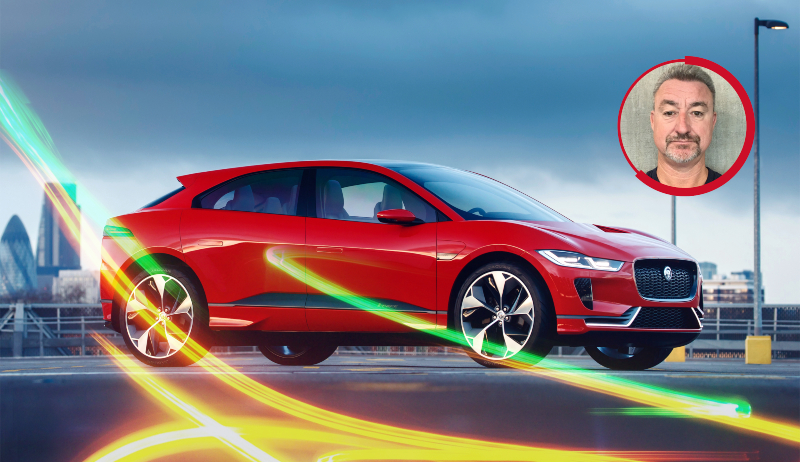 The historic and unique Jaguar ethos of space, grace, and pace, has translated beautifully into the British brand's all-electric I-PACE sports tourer. express' very own motoring enthusiast, Robert Barry explores this new icon.
There is no doubt the brand's co-founder Sir William Lyons would approve of this new chapter in the evolution of Jaguar. Indeed, all of the premium luxury European manufacturers have cottoned onto the fact, they all need a capable EV in their range.
This sleek five-door sports tourer proves that 100% electric drive is no longer the preserve of quirky-looking short-range urban-focussed shopping baskets. Instead, the I-PACE brings Jaguars renowned driving dynamics, comfortable ride quality, and long-distance touring capability to the electric vehicle fraternity.
Tesla be warned, the I-PACE joins it fellow European competitors, the Audi E-Tron SUV, the forthcoming Porsche Taycan, and the Mercedes-Benz EQC400 in chasing the environmentally-conscious premium-brand customer.
Inside the cabin, the driver-centric dashboard provides all the information you need at one glance, while the dual touchscreens control all the audio, navigation, and climate control functions. The all-important dynamic cruise control is fitted as standard, while the electric power steering offers the requisite heft when pressing on, but it is as light as a feather when negotiating a tightly radiused multi-storey car park.
The view out the sloping rear window is constricted, so thankfully a reversing camera is fitted as standard, as is the semi-automated parallel parking function, which will protect those massive 22-inch alloy wheels from coming into contact with the kerbstone.
---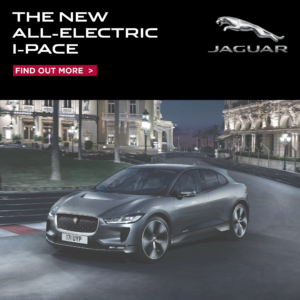 ---
Our review vehicle was an I-PACE 400PS SE model, and more than a few extra cost options had been fitted. The car was equipped with privacy glass ($750), fixed panoramic roof ($2350), configurable mood lighting ($400), head-up display ($1550) and tailgate – gesture ($250).
In addition the I-PACE SE was also fitted with optional front fog lamps ($300), a Homelink-garage door opener ($400), activity key ($650), cabin air quality ionisation ($200.00,) Matrix LED ($1450), Ebony Morzine headlining ($500), driver assist pack ($1300), and electronic air suspension ($2550).
The monogram aluminium trim was an additional $500 and the handsome set of 22-inch 5-split spoke style alloy rims were a further $4050.00, taking the on-road price of our review vehicle to $184,944.
That's not an insignificant amount for an electric vehicle no matter how luxurious, but more than 40 I-PACE vehicles will be delivered to their eagerly waiting Kiwi owners in the next month.
They won't be disappointed. The car promises a driving range of up to 400km and while we managed to recharge from 350 to 370km during our short tenure with the vehicle, its likely sympathetic owners will easily achieve the maximum range promised.
The legendary Jaguar driving dynamics are enhanced in the I-PACE by the floor mounted 90-kilowatt-hour battery pack sandwiched between the front and rear axles. All-wheel-drive traction is provided by two electric motors, one powering the front wheels and the other powering the rear wheels.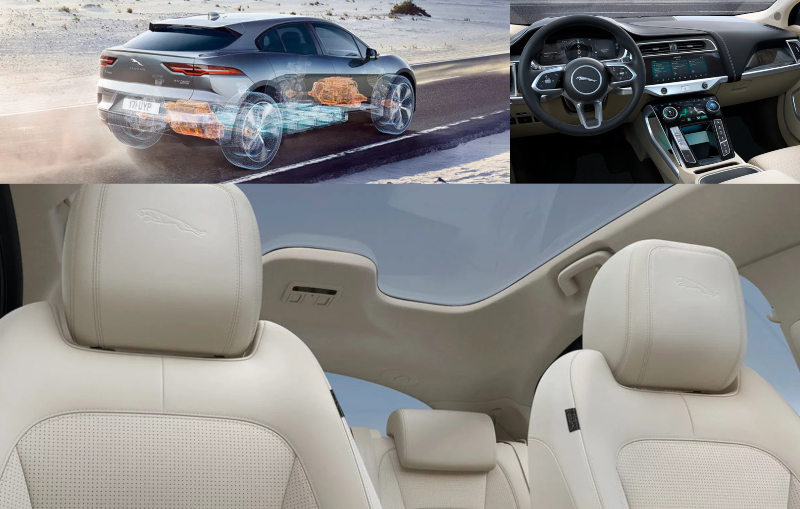 Three driving modes include ECO, Comfort and Dynamic, and the air-suspension also offers height adjustment to make life easier for people to hop in and out of the vehicle. For the benefit of aerodynamic efficiency and power saving, it does travel fairly low to the ground.
Jaguar reckons the I-PACE will sprint from zero to 100km/h in 4.8 secs, and top speed is 200km/h, there's also a wonderful purr during brisk acceleration thanks to an onboard sound generator.
The I-PACE drivetrain provided more than enough power to maintain a comfortable cruising speed as we found out during a run from Auckland to Hamilton, then to Te Aroha and back to Auckland.
We topped the battery up at a Waikato Electricity Limited (WEL) charging station in central Hamilton and then at Hampton Downs motorsport park on the run home. Recharging from a 50% depleted battery took up to 90 minutes using the free fast charging service.
No doubt most owners will install a 7kW wall box in their garage at home. Recharging an almost depleted battery pack in the I-PACE will take 10 hours according to Jaguar.
This electric Jaguar certainly has great road presence and turned more than a few heads during our time with it. It more than lives up to the promise of grace, space, and I-PACE.
---