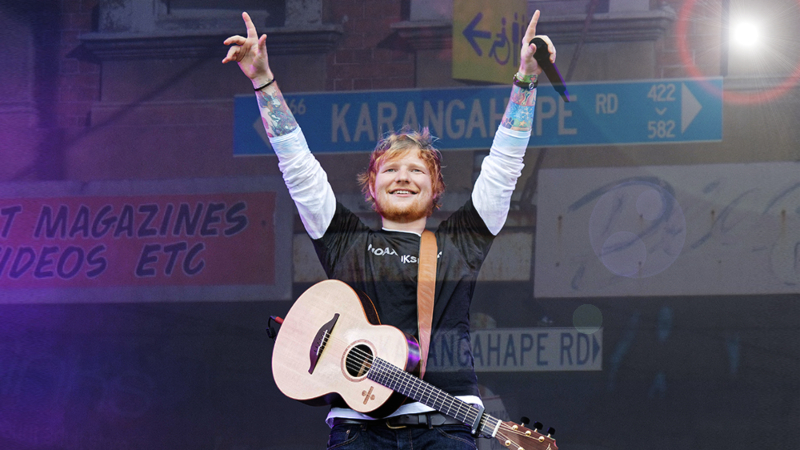 English singer, songwriter, Ed Sheeran has announced that he will be setting up a pop-up store on Auckland's iconic K Road this coming Friday to celebrate the release of his new album.
Sheeran's pop-up store which will be opening in St Kevin's Arcade on Karangahape Road on Friday the 12th of July to coincide with the launch of No.6 Collaborations Project will see the store stocked with his new album on vinyl and CD, along with exclusive and limited edition Sheeran merchandise.
It is also reported that Sheeran is also promising "interactive experiences" including recreating the meme's showcased in the video for his new single I Don't Care, which featured a collaboration with Justin Bieber.
Sheeran who announced his pop-up store plans on YouTube said, "Hello New Zealand, I'm going to be doing a one-off pop up store this Friday and it's going to have some limited edition New Zealand merch, the album and it's going to be a good place to hang. So go and find it."
Speaking with express about Sheeran's pop-up store, Michael Richardson of the K Road Bussiness Association said, "It's fantastic that Ed Sheeran is choosing Karangahape Road's iconic St Kevins Arcade to host his Pop Up."
"Karangahape Rd has a strong history as one of the main centres of Auckland's music scene and we are thrilled he is choosing to meet his fans in Auckland right here in Karangahape Rd."
Richardson adds, "Ed Sheeran says K Road is a great 'place to hang' so we are thrilled that he chose to hang with his NZ fans on Karangahape Road."
---
Ed Sheeran's pop-up store will be open from 9 am to 6 pm on Friday the 12th of July and again from 10 am to 3 pm on Saturday the 13th of July.