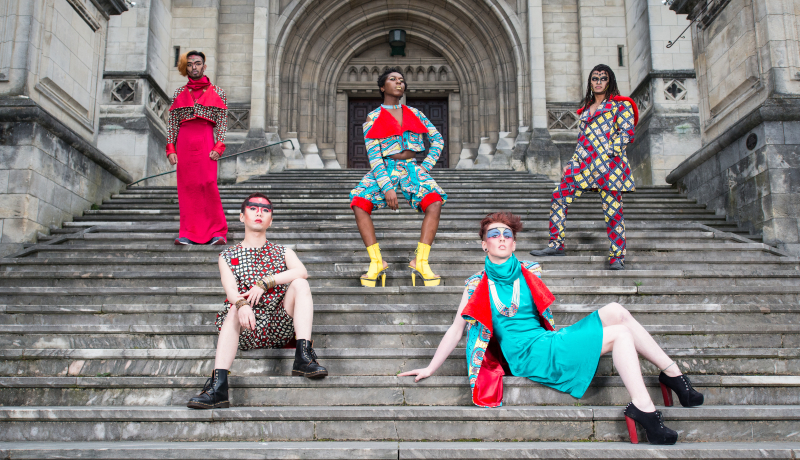 Project Runway star Lenon Wakuwa will exhibit their designs at New Zealand Fashion Week. They tell Belinda Nash about their passion for colour, androgyny and embracing individuality.
Lenon Wakuwa burst onto New Zealand television screen in 2018 in TVNZ's inaugural Project Runway NZ. As much as the fashion-on-'roids TV show format challenged Wakura, Wakura challenged it back – smashing gender-normative conventions and dismissing our Kiwi obsession for wearing head–to–toe black.
"I think colour is personality and New Zealanders are very afraid to wear colour. You hardly see Kiwis wear yellow or red," they laugh.
Wakuwa identifies as non-binary androgynous and creates clothing under label Adhala Lenzo Kreations – for people rather than gender.
Growing up in Chitungwiza, Zimbabwe, a town with a population the size of Christchurch, Wakuwa emigrated to Timaru at aged 16. In New Zealand, Wakuwa couldn't find the clothes they wanted to wear, so created their own.
Having watched their grandmother sew, Wakuwa first experimented in fashion designing outfits for their sister's Barbie doll. Their daring African-inspired designs for real-life people quickly followed, which in 2018 led to the Project Runway shoulder tap, something they hadn't expected.
"I was excited for Project Runway NZ and for people to see my designs, and I got to do it on national television, which was really, really huge for me."
The pressure-cooker sew 'n' show environment turbo-boosted Wakuwa's design process, from concept to execution.
"It was a very challenging experience. The amount of time given to work on the outfits is the amount of time in the fashion industry for one person to work on a sleeve, and another to work on the collar. But we were given that time to work on the whole outfit. So it was very, very challenging.
"It would usually have taken me a week to complete an outfit but after the show, I finish outfits in one day now. My speed is so insane from that experience."
Wakuwa's designs will walk the runway at New Zealand Fashion Week (NZFW) this August at the Group Designers Show and the 28-year-old says to expect it to be "bold and colourful."
"Showing at NZFW means everything to me. It's an amazing opportunity to get noticed in front of local and international media and buyers, and a way of getting noticed all over the world. It's the start of something big."
They add that the show's creations are inspired by their African background and identity, and aim to encourage and empower.
"It is a deeply moving, colourful collection. My designs are more feminine-based with a touch of masculinity that breaks all the boundaries of gender."
Wakuwa hopes designers, media and buyers are inspired by this gender-fluid approach to fashion.
"I want everyone who works in fashion or just loves wearing it not to be limited by what they currently think. I want everyone to express how they feel with fashion and embrace their unique difference; not just design for the sake of designing, but to create art. And to love and embrace colour."
The Mt Albert resident adds that they hope to be an inspiration for all the other young LGBTIQ people and youth who have dreams, especially to show at NZFW.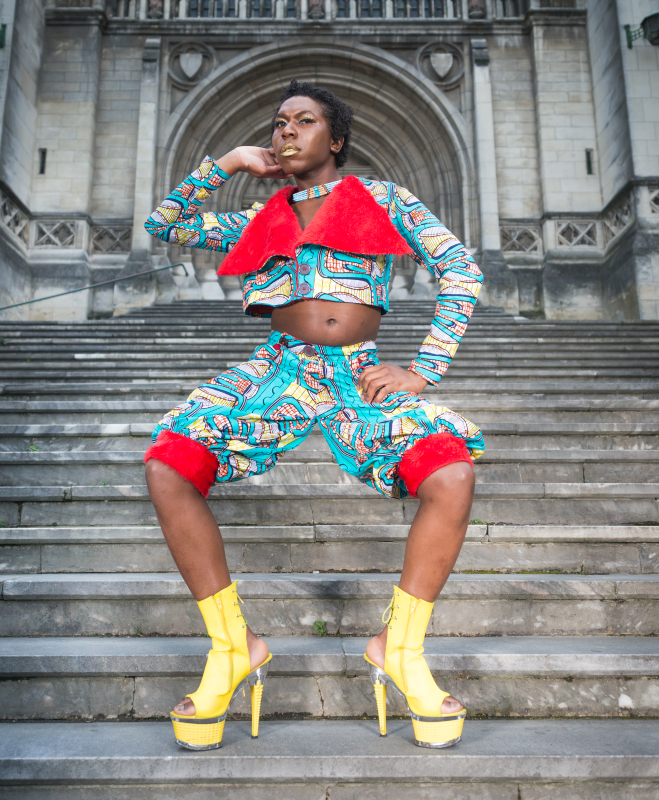 "Work hard, put your heart and mind into it and keep following your dreams. We all need to know that life is not fair and that we have to make the most of everything we have. The sky's the limit and you can do anything that you want to do in this world."
Wakuwa says now is the time for people to celebrate, love and express themselves.
"Be yourself, your uniqueness is what makes you beautiful. Be happy with who you are. People will always judge you, so you have to love yourself and don't mind what people say. Embrace your difference. Your uniqueness is what makes you beautiful, don't try to hide from the world."
The designer's family embraces Wakuwa's expressive and vibrant style and Wakuwa shrugs off judgement from those who don't.
"Love is what is important in life. I will be myself and they will learn to love me. I'm not going to hide who I am; I was created to be different – not to hide away."
Wakuwa is proud to be part of the New Zealand fashion story and says when we support the designers together we're a force.
"We ought to be there for one another in New Zealand. When you are willing to work together and support each, we succeed. And when one succeeds, then we all succeed."
---
Find Lenon on Facebook at facebook.com/Adhalalenzo