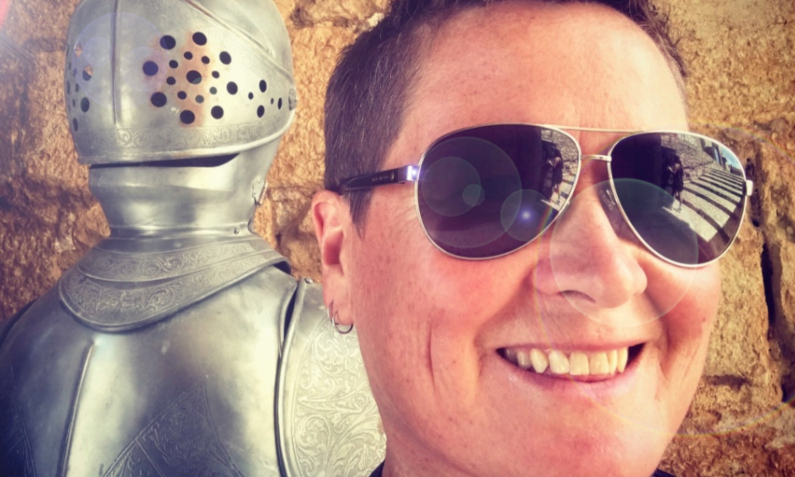 One of Aotearoa's original Drag Kings, Jac Lynch talks to Lilly Loudmouth about her ongoing work with our LGBTQ+ communities.
Lilly says, "Jac Lynch is the founder of the monthly Polari social event, a member of Wellington's campest choir – The Glamaphones, photographer behind the Butch on Butch exhibition, Rainbow Community Honours organiser and a member of Aotearoa's first Drag King troupe! Jac's been behind multiple fundraisers like Fabulunch, and is one of the most supportive people I know, with a great sense of humanity and humour."
One of your queer events is Polari Fantabulosa! Why did you create this social event, and are there more coming soon?

I started Polari about 10 years ago as a queer social event visiting a different Welly bar each month. It was a way of bringing people together and queering "straight" spaces. Pretty quickly it got a loyal following and new people in town were being referred along. Scotty and Mal at S&Ms would often send people to Polari if they knew we were meeting. After eight years, I handed over organising it to others. Paula Lloyd has been the main person hosting it and it's going strong. They still collect donations for Tranzform which was important to me.

What do you think are the most pressing challenges facing our community?

Vocally, visibly and actively supporting the rights of the communities who live with discrimination and are marginalised every day is the most important thing we can do. Challenging transphobia, racism, being allies when we aren't directly affected, and supporting those folk who step up. We aren't one amorphous community. Those of us who have truly benefited from law changes or more accepting social attitudes or just experience more privilege have a responsibility to support those who haven't.

What drives you to do more for our community?

Remembering what it was like when I was young and coming out (and I had it easy), feminism and an intersectional analysis, a sense of compassion, and constant inspiration from others doing way more than me. My partner Laressa works with queer youth on a daily basis as a school guidance counsellor – that's the coalface. There are a lot of generous committed hearts in Welly. People like Kassie Hartendorp (Community Organiser for Action Station), Gareth Watkins (PrideNZ.com) for records and sharing our stories, the crew behind the Gender Centre, and, of course, those who've died and left a legacy we benefit from, like Out In The Park's Virginia Burns.

You're part of the Drag Kings troupe and what a handsome lot may I add! Tell me more.

Val Little got our troupe going 18 years ago when no one had heard of drag kings and we only had a few overseas books and magazines to learn about them. We were active with shows for about 12 years. We still do bits and pieces, but at the moment we're mostly enjoying the next generation of kings that Hugo Grrrl has helped spawn. My main drag character is Cardinal BiCrikey, who was booted out of the church for indiscretions but still loves to frock-up and take confessions. 
---
Check out Polari on Facebook!