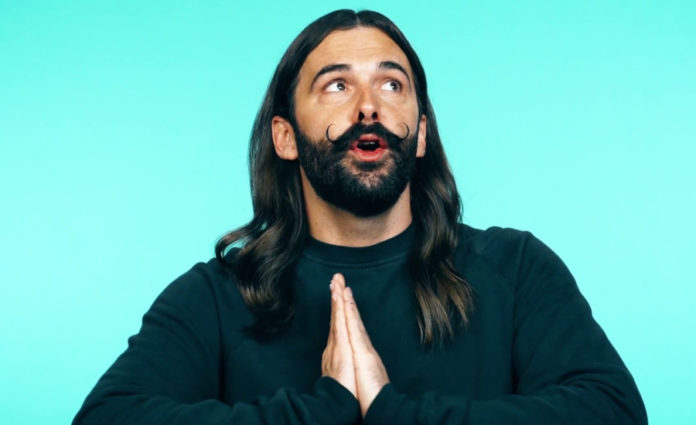 How Jonathan Van Ness overcame abuse, addiction and a positive diagnosis to become one of the world's most successful YouTubers, Podcasters and Queer Eyes.
"I've had nightmares every night for the past three months because I'm scared to be this vulnerable with people," Van Ness told the New York Times in the build-up to the release of his autobiography Over The Top: A Raw Journey of Self-Love (OTT), saying that he fears that the frank memoir will change the public perception of, "the effervescent, gregarious majestic centre-part-blow-dry cotton-candy figure-skating queen," that he portrays in the media.
"Buckle up, buttercup, because I can go from comedy to tragedy in three seconds flat," he warns in OTT, going on to reveal he was the victim of sexual abuse as a young child and became addicted to sex and drugs as a young adult.
Van Ness grew up in US city Quincy where his family owned the local media empire that ran television stations and newspapers in Illinois and neighbouring states.
In OTT he describes himself as a feminine child (a "little baby queen") and embraces the term 'genderqueer' as an adult. He says his family were mostly supportive and in a recent interview with The Guardian recalled, "I remember very clearly my dad finding me in an evening gown with my two cousins. He tore me out of the dress, holding me in the air so that I was perpendicular to the ground. I was terrified." His parents later separated.
Van Ness was just four years old when he was molested by a teenage boy he met at Church. "For a lot of people who are survivors of sexual assault at a young age, we have a lot of compounded trauma," he told the New York Times.
For Van Ness manifested in low self-esteem and self-loathing. Despite breaking ground at Quincy Senior High School as their first male cheerleader, he labelled himself as "too fat, too femme, too loud and too unlovable," to have had a boyfriend.
An underage Van Ness sought out hookups over relationships, meeting up with older men he met in internet chat rooms, at times not revealing his true age.
He dropped out of university after his first year, but not before developing a cocaine habit and advertising his services online as a rent boy to pay for it.
At 19, a beautician course led him to Los Angeles, where he scored a job at a Salon which attracted clientele like Jane Fonda.
In this new environment, his hand-in-hand addictions to sex and drugs began to spiral as he was introduced to hook up apps, bathhouses and meth. He attended rehab twice but relapsed on both occasions while dealing with the death of his stepfather.
He was 25 years old when he tested positive for H.I.V. after collapsing at work.
A wake-up call, Van Ness realised he wanted to live and began to pick up the pieces. Avoiding hard drugs and taking H.I.V. meds, his viral load became undetectable.
"I want people to realize you're never too broken to be fixed," he told The New York Times.
"Everything that happened to me that summer will always be painful to think about. It was like saying goodbye to so much of what I wanted," he elaborated to The Guardian. Telling them that when he decided to write about his diagnosis in OTT, "It occurred to me: what if everything I've ever been through was preparing me for this moment – to be strong enough to share this."
For Van Ness, his diagnosis lite a fire under him. It gave me a reason to really fight," he told The Guardian. "I absolutely do not think I'd have been as socially aware or conscious or want to make as much of a difference… I wanted to do something to move the conversation forward in a meaningful way around HIV/AIDS, and what it is to live with HIV, and to humanise and normalise a lot of the things I talk about."
With a greater focus and a cleaner lifestyle, things began falling into place for Van Ness. During a hair appointment with comedian Erin Gibson, she and Van Ness came up with the concept for web series, Gay of Thrones, where Van Ness would style a guest comedian's hair, while providing a sassy recap of the previous night's episode of Game of Thrones, together with nicknames for the characters such as 'Munch, Munch' (Tyrion), 'Christina Aguilera' (Daenerys), 'Little Power Bottom Queen' (Joffrey). The show debuted in 2013 and was nominated for three Emmys.
When Netflix held auditions for the return of Queer Eye in 2016, Van Ness was a shoo-in. As the show's grooming expert, he is one of the most popular of the fab five. Season five of the hit show will arrive on Netflix early next year.
Queer Eye's popularity led to a spike in listeners for Van Ness' Getting Curious podcast, where he and guest experts discuss topics as varied as menstrual cups to Brexit to the relationship between Sunni and Shia Muslims and 'who was Beyoncé of Renaissance Art?'
When he's not busy with his work commitments Van Ness is a keen gymnast and figure skater, hobbies that leave him with little times for a relationship.
"In the past, I've had relationships with people who I was almost using to validate myself and my existence, and that's not been a great plan for me," he told The Guardian.
In that same interview Van Ness offered a message of inspiration (as only he can) to others also searching for their own validation: "There's like 15 bajillion eggs in the ovaries and who even knows how many, like, little spermies are in there, so the fact we got to be born and be living this long is kind of like a mathematical who-knew."
Jonathan Van Ness brings his Road To Beijing Tour to Auckland's The Civic on Sunday 16 February. Tickets from Ticketmaster.co.nz
His memoir Over The Top: A Raw Journey To Self-Love is out now.