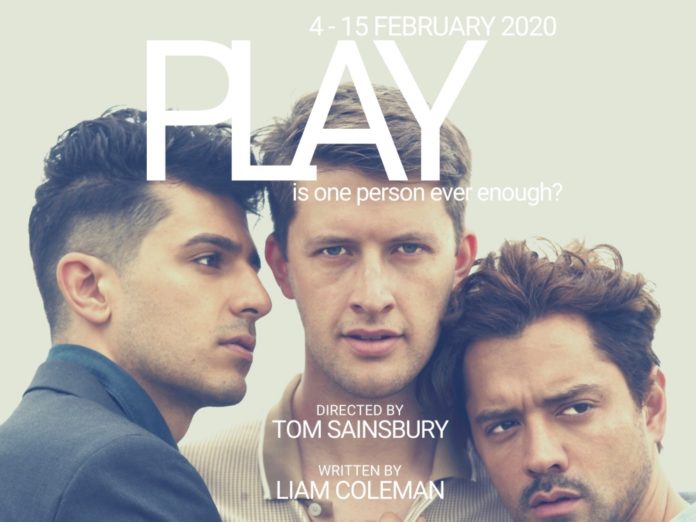 express chats to Alex Walker, Zak Enayat, Liam Coleman, and Tom Sainsbury about 'Play' as they explore the modern-day gay scene of dating and relationships in 2020.
'Play' Which is Directed by Tom Sainsbury is described as a snapshot of what gay/bi men experience when finding love and lust with all the sexual tension, heart-break and awkward conversations.
Liam Coleman who wrote 'Play' and also plays the character Nick says much of the play was derived from personal experiences, "There are elements in the play that are drawn from personal experience. It's not autobiographical, but I have certainly found myself caught in a similar situation where my heart ended up broken,"
"I was going through a similar experience at the time and I was trying to see the situation from an outside perspective and thought 'this is some good drama!'" Coleman adds.
After he had finished writing 'Play', Coleman says that picking a director was a no-brainer, "I love working with Tom. He's extremely collaborative and this will be the fourth time we've worked together. There are components of the story that are so raw for me. I wanted Tom's quirk."
With Sainsbury and Coleman both having worked with Zak and Alex on productions before, Coleman says that the decision to cast the pair was easy, "They are exceptionally good actors and most important for me – easy to work with. I knew they had the emotional capacity to play these characters and knew we would have fun bringing them to life."
Alex Walker who plays the character Rich, (a playwright who is figuring out if he is polyamorous) says that along with the "cheesy wordplay-flirting" he enjoys the pace of the show, "the dialogue fires back and forth quite quickly – which are usually the heated argument moments."
Zak Enayat who plays Dan (a realtor who has been dating Rich and is wanting an open relationship) says he can see where his character is coming from, "He wants an exclusive emotional and physical connection with mutual permission to have one-off 'just a fuck' sex with others, separately… I can see how things end up going the way they do…"
While there are some very funny (yet truthful) moments in the play, Tom Sainsbury, says that he also hopes that audiences walk away examining their own beliefs around relationships.
"I feel we've all bought into what is expected of us and what is 'natural' when it comes to romance, love and being with someone. But sometimes you need to challenge that."
"I'm laughing out loud in rehearsals," – Tom Sainsbury
---
'Play' is at Q Theatre from the 4th – 15th of February 2020 GET YOUR TICKETS HERE!