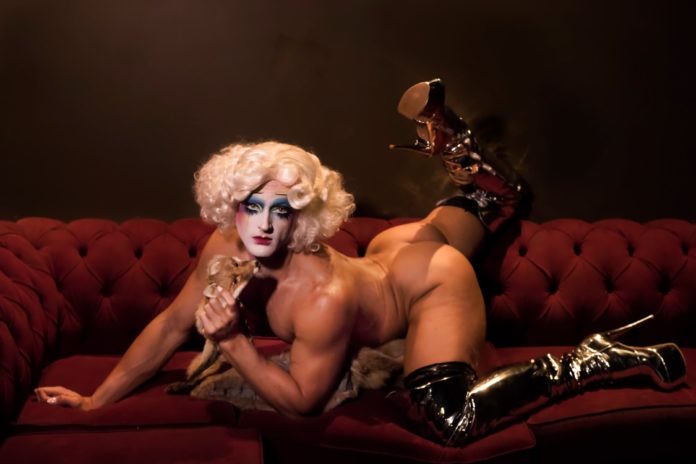 Former Mr Gay New Zealand and Mr Gay World Chris Olwage will be making his annual pilgrimage to Splore next weekend. He will take over the 'Living Lounge' with his unique brand of risque cabaret. He tells express about highs, lows, aspirations and love of Splore!
A new Mr Gay New Zealand has recently been crowned. What did your victory at Mr Gay NZ and Mr Gay World do for you both personally and professionally?
Where do I even begin?! It came with a lot of highs and lows. It wasn't as glamorous as it appears. I was suddenly flung into the limelight in a way that I had previously not experienced before. Every action and statement suddenly became an international target where people were constantly making their opinions of me known in a very public way, not just in New Zealand but now globally. I was being recognized on the street in foreign countries and receiving an insane amount of attention. It was quite isolating and at times made me feel very lonely. I had to make sure that I always stepped on the right foot, that I to harness my wit, listen twice, speak once, and speak correctly. I learnt a great deal of tact, and I learnt a great deal about the larger communities of Gender and sexual minorities (some of which were previously unknown to me). Moreover, Being a spokesperson for a cause that was bigger than just me, I had to speak, learn from and interact with peoples of all cultures, classes, creeds, races and sexualities. It was a humbling experience. But on the plus side, I was treated with such care and honour and afforded experiences I could never even dream of. I was able to travel the world and connect with a diverse array of people that together form the fabulous threads of our rainbow tapestry. It afforded me a chance to learn about the world first hand, come face to face with my privilege, discussions gave way to understanding, and it taught me how to act and lead with compassion. It gave me a deeper understanding of how lucky I am to be where I am, and that I am able to celebrate the fact that I live with such freedom, acceptance and respect. What being a once Mr Gay World showed me was the vastness of personal experiences, and it illuminated the pressures, fears and struggles that others endure across the world, even to this day.
Professionally it gave me many skills too, public speaking for one, interpersonal skills, situational awareness and the ability for establishing and maintaining ongoing networks and relationships. All these things I now use as part of my international performance persona as
Chris
Oh! the boylesque artist.
You have become a staple of the Splore lineup in recent years. What is it you love about the festival that keeps you returning?
If you've been to Splore then this answer is easily recognized. Splore is a magical festival where one witnesses the convergence of peoples, families, straight, gay, and other, in a place that celebrates creativity, vibrancy and life. Music fills the air, the sea breeze cleanses the soul, and everyone is smiling. It is like a Utopia of sorts where anything goes and anyone is free to be who they are with no judgements. Who wouldn't want to keep going back to something like this?
What can we expect from your performance at Splore this year?
This year we celebrate Infinity, and for my performances, I decided I wanted to draw upon the idyllic paradigms of paradise, both pagan and Christian. I want to create a piece that harks back to the old gods, angels, with wild abandon, sensuality and a large dose of naughtiness. I guess I don't want to give too much away. But if you're attending you can catch me at the Living Lounge Stage on Saturday for the main Cabaret production starting around 10pm. The entertainment this year is a barrel full of sex, acrobatics, comedy, sparkle and pizzazz. It is not to be missed!
Beyond Splore where else can we check out your unique brand of boylesque?
Well, if you follow my Insta
@chrisohfficial
then you'll be updated via my stories and posts as to my travels and the various shows I'll be in. It is going to be a busy year and I'll be performing across 4 continents. So watch this space and you could find me performing in a town near you.
Your social media shows you living it up in Switzerland and Sheffield in the last fortnight alone! How much travel are you doing at the moment and what have been the highlights?
Gosh, I have been so blessed to be able to do what I do and to be able to do it everywhere! Last summer in Europe, within the space of four months, I had only seen my bed for a grand total of 14 nights because of all the travelling. I was literally jet setting across the world! It was both exhilarating and exhausting, but hey, this was always the dream. And very few of us ever get to say we are living our best lives and doing what brings us the most happiness. So, here's to all that will unfold! The dances yet to be danced and the places yet to be explored!
What do you most enjoy about coming home?
Seeing friends and family is by far the most important thing to me. I find it grounding and necessary, to be able to connect and hold tight again those that are dear to me.
So, are you single and ready to mingle?
Well, I am kind of seeing someone at the moment. But that doesn't stop me from making new friends, come at me, and let's have a boogie!
What are your goals for this decade?
Two-lifetime goals/dreams were achieved earlier this year: I was named the number one most influential burlesque performer in Mainland Europe for 2019, and ranked 14th most influential in the World! (21st Century Burlesque Magazine). These were placings on lists that I had once hoped to appear on as it meant that I was contributing to an art form that I have now made my profession and having an impact in the world. I was deeply honoured and humbled when the lists were announced. It made all the hard work, the step into the world beyond my comfort zone, and indeed leaving home to make the dream happen worth it. It made me feel like the path that I find myself on was suddenly validated by my peers, fans and colleagues, that I am doing what I am meant to do and being where I'm meant to be. I am so grateful to all those that have given me opportunities, enjoyed my art, shared in my classes and all those that have supported me along the way. And in true form, for the next decade, I'd like to just keep going. I would like to keep performing, keep growing, keep improving myself as a human, a performer and an individual. There is so much more I want to give to the world, so much more I have to offer.
Furthermore, I want to put it out there to everyone that dreams can come true with hard work, diligent effort, and just the right amount bravery. Sure, it is really really hard work sometimes. But hey, you only have this life, this moment, now. Why wouldn't you make it the best?
The Splore Festival runs from Friday 21 to Sunday 23 February at Tapapakanga Regional Park. Visit Splore.net for more info.