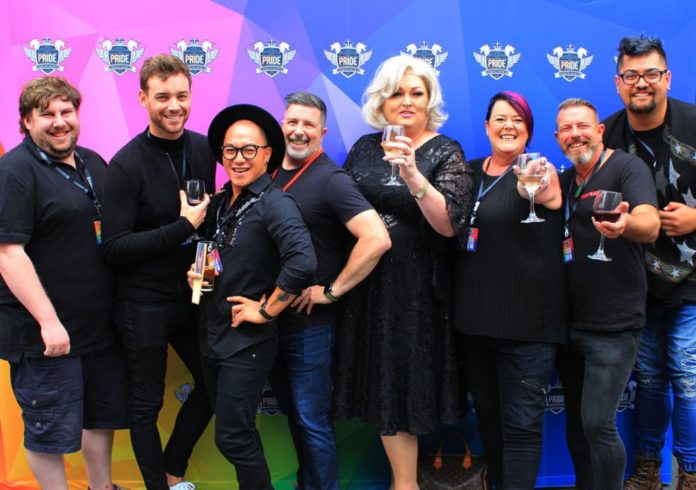 Almost 10 years after the quakes, like the city, Christchurch Pride has really regrown into its own. With over 46 events on until 22 March, there is something to tickle someone's fancy.
One of the fabulous things about Christchurch Pride is that surprisingly unlike other pride festivals they receive no funding or have any paid employees. It's 100% self-funded and organized solely by volunteers who create a truly diverse and inclusive festival!
Some of these fabulous events include the annual opening "Christchurch Pride Art Show" which really brings the community together, as not everyone in the LGBTQIA+ community are all about the glitter and dance parties. 2020 sees a big focus on youth and families starting with the North Canterbury Rainbow Picnic which is always a wonderful day out for the whole family. Our local queer youth group Qtopia and the new Central Library Tūranga are collaborating on Rainbow Discussion Panels, Judge a Book By its Cover: Book Dating, a Fabulous Art Afternoon, Clothes Swaps, Queer Comic Workshops and our first-ever Drag Queens Telling Stories!
There are queer movies and documentaries at the Art Gallery and a special sing-a-long screening of 'Rocketman' at the Lumiere Cinema in the recently reopened Arts Centre.
We have a comedy show called "Ha Ha Homo" featuring some of NZ's best queer comedians and the legendary Court Theatre is hosting "Queered Scriptless" improv comedy.
Ending HIV are also onboard bringing Auckland drag sensation Ms Wednesday Blaiselle and her one-woman show "Everybody Interesting is Gay" they also have the Day Retreat for those living with HIV, a "Dumpling Making Party" for our queer Asian community and community Condom Packing with inclusive rugby team the Heroes who are also inviting people to join them in the annual Christchurch 'City 2 Surf' Run – I might have to leave my heels at home for that one.
There are also old favourites like the "Mask Party" at Menfriends, the always packed to the rim "FriGay Drinks" and "Pride Bingo" where the four most fabulous senior citizens: Freeda Cox, Shirley St Albans, Meryl Vale and old kuia Aunty Pipi will be dropping balls and splitting sides!
For something more spiritual there's the MCC Oasis Lite Pride Service. And if you still need to wash your sins away there's the very first "Fomo" Pride Foam Party, guaranteed to get you moist.
For those more versatile there's "Move with Pride" a fitness/pilates class. If you prefer something more filling there's a "Bottomless Drag Brunch" at the fabulous Maison de Crepes. You can also take a glimpse into the world of Takatāpui and their experiences in the LGBT+ community with visiting scholar Elizabeth Kerekere or if there's something you've always wanted to ask some of our community identities then now's your chance at the no holds barred "You Can't Ask That" seminars.
Fancy trying your hand and body as a voguer then learn to pose and sashay at the "Vogue Workshop" then slay it at the "Flappin' Fabulous Closing Party" where DJ Jordan Eskra along with the Divine Joanne Neilson, Chanel D'Vinci and Victoria Secretzz will keep us entertained till the early hours of the morning. If by any chance you still have any energy left then grab your fur baby, pack a picnic and head down to the "Pic'y Bit*h" Pride Dog Walk.
As you can see the program is jam-packed but there's still a whole lot more over the 11 days… it's tucked tighter than I am on a Saturday night!
To see the full programme find Christchurch Pride on Facebook or visit: www.chchpride.co.nz
Article | Little Miss Cinnamon.