Home-sick London-based Kiwi artist Savannah speaks to express ahead of her performing on Lockdown Live Tonight at 8:30 pm.
The Auckland born artist who describes her work as "meaningful Pop" says shes excited to take part in Lockdown Live, and is looking forward to being able to perform to audiences in New Zealand and around the world.
Openly queer Savannah says she was lucky enough to not have to 'come-out' growing up, explaining that it never mattered to her family if she would one day have a boyfriend or a girlfriend.
"I was raised in an extremely open and tolerant household. I was brought up with gender-neutral colours and played pirates as much as fairies and was never questioned about my choices."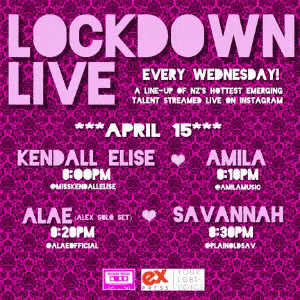 Savannah says that her family eventually found out when she was hanging out with her now ex-girlfriend. "They could tell I had feelings for her, so that was just treated how it is any other time I get a crush on someone (which is quite rare, really) and then my dad found out once we'd been dating a month."
The Lockdown Live performer says that she draws inspiration from her LGBTI+ role model "within music and outside," Halsey.
"The first time I ever heard her music I just remember instantly thinking 'this is what I want to do.'
"I found her shortly after she released Room 93, and that EP was very close to my heart at that time. Each album and the stories she tells with them come out at a time in which they relate to me so perfectly.
"The stories she is able to tell and how she is able to do it is something I have always aspired to do," Savannah adds.
Savannah explains that she describes her own music as 'meaningful pop', "because I find it quite hard to be brief about it.
"Ultimately, I think my music is something that has a sound that attracts a wide range of people. However, the lyrics are deeper than you'd initially expect. The thing that drives me to create that always has is the idea of being able to help and inspire.
"I want to make music that helps people the way music, such as Halsey's has helped me."
Along with Halsey, Savannah also confesses to express about her 'insane' obsession with Aussie band, 5 Seconds Of Summer (5SOS).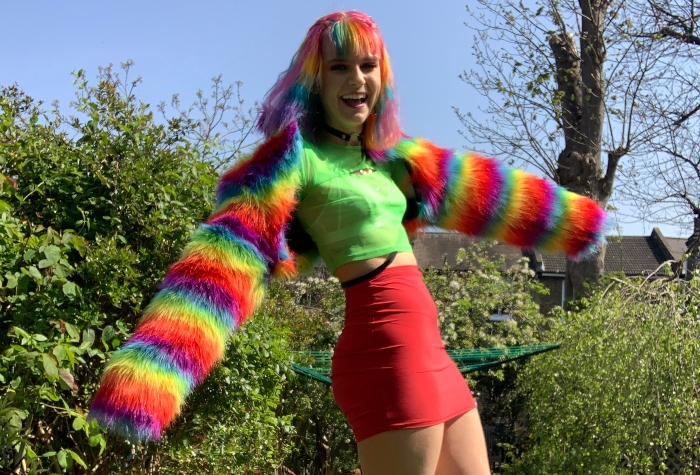 "I have been for over six years now, which is insane. I even had two fan accounts, and ran an event to celebrate them back in 2016."
The artist also adds that she even has a 5SOS tattoo which she got on her 17th birthday.
"It's a reminder of how much they have helped me grow and how they helped me find my colour when times were really dark."
"They really helped me find myself when I got very lost for a while. They got me into bands and that genre of music, and I actually am currently playing around with that type of sound because I do really appreciate it and it is a majority of what I listen to, so we'll see what happens with that."
"I've drawn a lot of inspiration from 'Sounds Good Feels Good' both lyrically and musically, and also just in life, that album holds a lot for me, and it was definitely a key part of my self-discovery and musical experience."
Savannah has just released her new single, Nowhere To Be Found, says she originally wrote the first version of the song back in 2017 saying, "it was one of the first songs I wrote for Uni. I wrote it at a time when I was coming to a lot of realisations."
Savannah says she hopes the song helps validate other women in similar situations. "I know that in New Zealand particularly, rates of domestic abuse are so so poor, with one in three women being in an abusive relationship in their lifetime."
"I had recently come out of a three-year relationship, (one I got into at fourteen). I had known for some time it was a bad relationship, but this was the time I realised the severity of the abuse I had endured, especially as I was so young.
"We were the house, him and I, falling apart, he was able to come and go as he pleased and he left me in this crumbling house expecting me to put it all the work to keep it standing, but also not caring that I was suffering."
Savanah says that, Nowhere To Be Found, "comes from the idea that he would constantly be putting everything above me whereas ensuring I had nothing else in my life but him, so I would always be looking for him, because he told me I needed him, but I was never the priority he told me I was."
"The power dynamic of the relationship is shown through 'Promised you were building me up while you nailed me to the ground' this is something I was figuring out when I wrote this.
"He was saying all these lovely sweet things to me and drawing me in, but there was so much happening behind and underneath that was causing me so much pain and hurt, but he was very good at convincing me I was doing that to myself.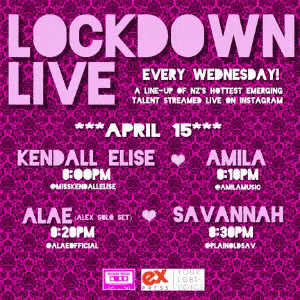 "I left him when I realised I would rather be alone forever (which he told me I would be) than with him for another day, and this is what the end of the song reflects: realising I don't need him, I am my own strength, I can "build myself higher than he ever could" and this leads to this old house we had built finally falling down. Finally, my own person who can focus on looking after myself rather than that old house."
While currently staying with family in the UK, Savannah is also in Lockdown and says that TikTok and Disney Plus has been a great time waster for her. "I just finished every Pixar movie and all of Hannah Montana – haha!"
"My advice is not to get too caught up in productivity, especially if like me, you struggle with mental health, take care of yourself and prioritise your mental and physical health above productivity."
Savannah hopes to move back home by mid-2021 but also hopes to get back to New Zealand for a small holiday at the end of the year.
Don't miss Savannah on Lockdown Live tonight, thanks to NicNak Media which starts at 8 pm.