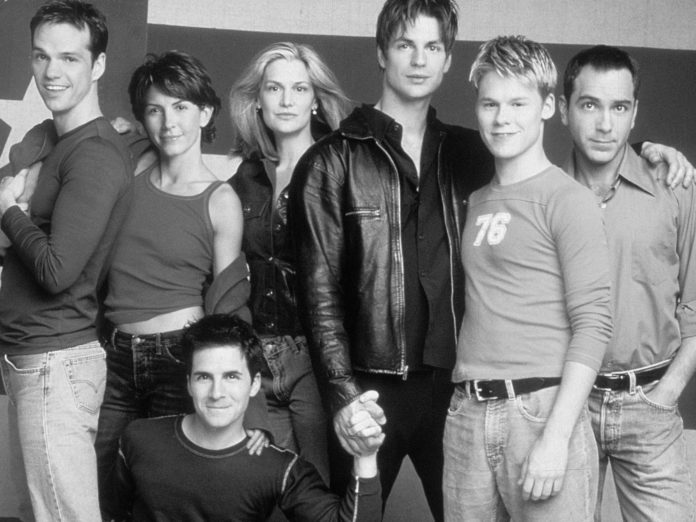 The stars of the US remake of Queer As Folk will re-unite virtually to raise funds for the Unite States LGBT+ centres.
While LGBT+ individuals seem to be left behind by the current health crisis, the cast of the American Queer as Folk series has decided to take matters into their own hands.
According to The Hollywood Reporter, the actors and actresses of the cult series will meet online on YouTube by webcam, in order to raise money to support LGBT+ centres.
Scott Lowell, known for playing Ted for five seasons on the air, will be responsible for hosting this surprise reunion. Among those to zoom in will be Randy Harrison (Justin), Peter Paige (Emmett), Hal Sparks (Michael), Robert Gant (Ben), Michelle Clunie (Melanie) and Sharon Gless (Debbie).
As a bonus, the creators of the series, Ron Cowen and Dan Lipman, will be there.
As well as listening to some amazing stories from the past, Queer as Folk fans will be able to participate in auctions to win souvenir items from the series.
All funds raised through this virtual reunion will be donated to CenterLink, a network of over 250 LGBT+ centres across the United States.
The event will take place on May 1 at 11 am US Eastern Time (May 2 at 12.01 am AEST or 2 am NZT). This is something to rejoice the fans, who had not seen the interpreters of their favourite characters since the 2018 meeting for Entertainment Weekly magazine.
A cult show for many gay men, Queer as Folk, based on the British series of the same name, debuted in December 2000 and followed the lives of a group of gay men in Pittsburgh. It was hailed by the community for its depiction of gay sex, drugs, politics and activism at a time when gay-focused series were in short supply.
Unfortunately, Gale Harold (Brian) and Thea Gill (Lindsay), are at this stage no-shows for the reunion.
Good Friday Good News … for fans of #QAF at least! On May 1st in honor of our upcoming 20th Anniversary we will be #livestreaming all over the world on Facebook Live & YouTube Live a special virtual Cast & Crew Reunion to raise funds for @CenterLink ! #MayDayGayDay #SaveTheDate pic.twitter.com/vOoUqcvGsh

— Scott Lowell 🖇 (@scolo) April 10, 2020