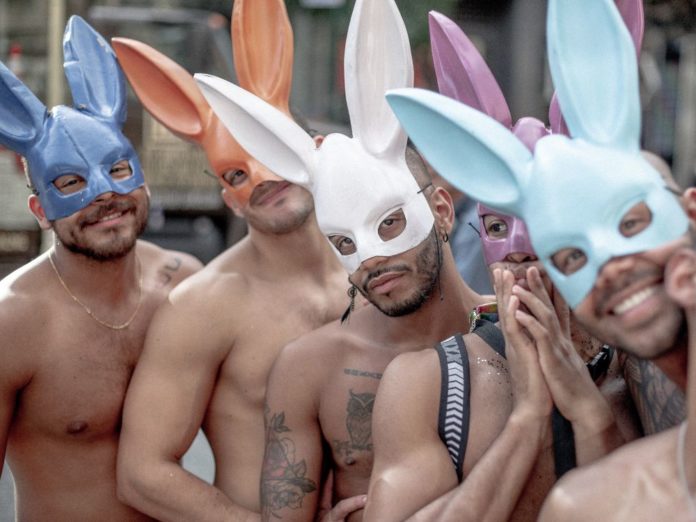 In a time of physical distancing, Body Positive's Mark Fisher asks what is the future for casual sex, sex on-site premises and people engaged in sex work?
Physical isolation is the new normal as restrictions due to COVID continue. Walking outside or sharing a bench are considered dangerous and hugging or kissing as a form of greeting is forbidden. Having sex with people outside your bubble is not an option so consensual sex inside your bubble is your choice which can be with your live-in partner or yourself.
There are lots of guides to abstaining from sex and how to physically distance and these have led to a tripling in the sale of sex toys during the lockdown so most people are getting the message. As a community LGBT are used to being policed around their sexual desires. Consensual sex between men aged 16 and older was criminalized until the Homosexual Law Reform Act came into effect in 1986. People living with HIV are still criminalized today for non-disclosure of their HIV status with a sexual partner. Now with coronavirus people can potentially be criminalized for having consensual sex outside of their bubble. Recently, 8 men in Barcelona were raided and arrested for consensual sex during their lockdown. With some countries predicting that physical distancing may be with us until 2022 or at least until there is a vaccine that can be manufactured and distributed at a global level to provide collective immunity which is something that may never happen. What is the future for sex on-site premises or for people engaged in sex work? What is the future for casual sex?
With the HIV/AIDS pandemic, we were forced to do a similar assessment of risk. Our friends and lovers were dying around us but sex and intimacy are a vital part of life and desire is a trait shared by all. The simple act of touch and connection is part of what brings people together as a community. In the initial responses to HIV, we had bathhouse raids and the face of the grim reaper in adverts in an attempt to stop people from having sex. Campaigns were based around fear and the ABC's (Abstinence, Be faithful and use Condoms) with funding being tied to these principles and in a number of countries condoms were not an option due to religious beliefs. Today we are promoting Abstinence and Be faithful. Stick to people you can trust to limit the size of your bubble and thus your level of exposure. Keep everyone at least 2 meters away at all times.
Most of us have modified our behaviours to meet the new normal but not everyone is able to do this and no one is providing alternatives on how to minimize risk. We have witnessed this with people taking part in outdoor activities, hosting house parties and rushing to congregate at cafes and takeout as they become available. Physical distancing in a social capacity is difficult for everyone to maintain for an extended and undefined period of time. Some people don't care, some people are challenged due to mental health, addiction, social inequities or financial strain. Some people struggle with compulsive behaviour and have lost access to the support and social networks that they rely upon in times of need. Some people don't have the luxury of choice or control of their lives due to varying power dynamics. Some people are experiencing powerful levels of depression due to the situation we are in and are indifferent about themselves and others at the moment. Some people have lived on the edge for a long time and don't respond well to being told what not to do. And some people just don't understand the risks that are being presented to them. We don't criminalize these people. We support them. We minimize their risk of harm by connecting them with the support services they need and helping them to alter their behaviour safely. We help them to take control of their choices and the consequences these may have on other people.
If physical distancing is with us for a long time we need solutions that will enable people to connect or these activities will be forced underground to an unregulated non-compliance that increases risk. We need to accept that the enforced prohibition of physical connection is not possible in the long term and develop strategies for people to manage their behaviour appropriately. We are placing peoples physical and mental health at risk through this lockdown process and risk creating a form of community-level PTSD. These mental health and social supports need to be scaled up and enhanced to meet the increased demand that we all know is bearing down on us due to the lockdown.
For the short and medium-term we need to accept there are levels of risk and ensure people understand transmission routes and how transmission chains are formed through close physical contact to enable people to manage their own activities appropriately. If you do have sex with others, have a few partners as possible and avoid group sex. If you usually meet your sex partners online or make a living by having sex, consider taking a break from in-person dates. It may be time to maintain a little black book of people you have connected with (and when). One of the ongoing challenges with eliminating STI's has been effective contact tracing in the age of hook-up apps like Grindr where there is limited contact information beyond a screen name. In the age of Coronavirus, it's important that you can reach out to anyone that may have been exposed through a phone call, txt or email. Ensure you have this contact information for everyone you connect with and know when you met up in case you are diagnosed. Expediting testing and being able to trace these connections quickly is the main method to stamp out the virus and stop it from continuing to spread. This will be the new norm until we get a vaccine or herd immunity. Based on our experience with measles it is unlikely there will be planet-wide elimination of coronavirus and hopefully one day our borders will again be open to allow tourists to come visit New Zealand. Now is the time to plan for the new reality of sex in the age of Coronavirus as it is already here.
Body Positive Inc. is a group founded by and run for, people with HIV/AIDS. They welcome all people living with HIV and AIDS in New Zealand and look to
break down isolation and builds a sense of community while advocating on behalf of HIV+ people on a national level. For more information visit
bodypositive.org.nz