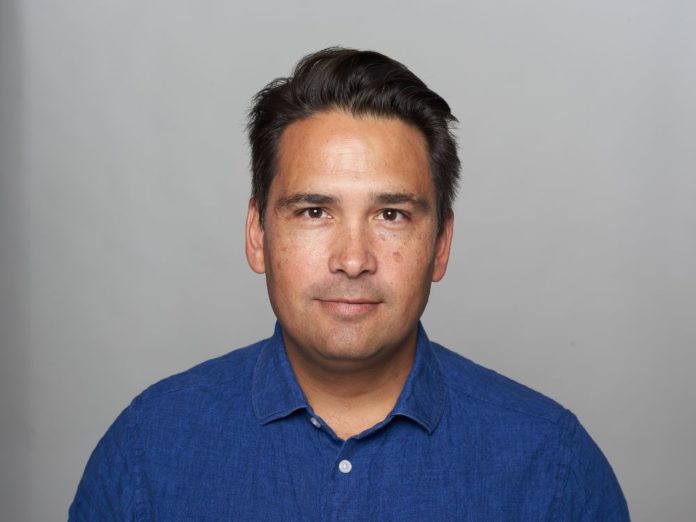 Newly deposed National Party leader Simon Bridges speaks to Levi Joule about past mistakes, making amends with the LGBT+ community and his ambitions for the future.
Simon Bridges arrives for the express interview in an upbeat mood. It's February 2020, the COVID 19 pandemic has yet to sweep the country and National is still polling high.
Three months is an eternity in politics, Bridges' reaction to the government's COVID 19 strategy was viewed almost universally as abysmal – leading in part to his replacement as leader.
But on that late summer afternoon, things weren't looking all that bad for Simon. The polling was nowhere near as dire for him or his party the then National leader was genuinely excited about his upcoming visit to the Big Gay Out, his third as leader of the opposition.
"I went along last year thinking perhaps National party leaders get a hard time, but I saw a lot of love and support and it makes me excited to be going back in an hour or so's time." Bridges tells me.
It would be remiss to overlook Simon Bridge's past comments and actions in regards to the LGBT community. There was the infamous comment made as a Young Nat in the 1990's which resurfaced prior to last year's Big Gay Out in which Bridges says he is "not really into homosexuality" then there is the infamous vote in 2013 in which the then Cabinet Minister voted against same-sex marriage.
Bridges has subsequently apologised for the comments he made as a young Nat, telling media at last year's Big Gay Out that they were made by "a very silly young guy" and that his views had changed.
The MP for Tauranga takes ownership of his more recent vote on Marriage Equality and admits he was on the wrong side of history.
"Look I got it wrong." Bridges tells me.
"I think New Zealand has moved on, I've moved on and I think the law is working really well."
So why did he vote no on marriage equality in 2013?
"I guess I got caught up in the concept of marriage as a religious institution and I didn't think actually enough about my own marriage and what that means," Bridges says.
The comments are made with sincerity as he recounts his own relationship with UK-born Natalie.
Simon met Natalie when the two were studying at Oxford University and "needed to get her back to New Zealand" so he married her within the first year of the relationship in order for her to return to New Zealand with him.
He says he believes marriage is something that should made available to all couples "to experience if they want" and reiterates his genuine support for the current legislation he once opposed.
Bridges is less than keen to start offering explanations for his party's history however, while Jacinda Ardern tells me she stands proudly behind Labour's history on LGBT+ rights, Bridges tries to deflect.
The former National leader is aware of the party's less than exemplary record on LGBT issues but doesn't offer an apology in the way he does for his own past views. I ask him if he thinks it has historically been a barrier for some LGBT+ voters.
He says he doesn't think so, despite what some of the "loudest voices in the media" have to say.
"We are the broadest party in New Zealand. Our values are those of inclusivity, diversity and freedom."
"I think you can be confident about National based on our track record."
I list the history of the party re LGBT+ issues. A majority of National MPs voting against homosexual law reform, civil unions and the third reading of marriage equality.
"As society changes, we change," he offers as a way of explanation.
"I can only speak for myself, I got it wrong (on marriage equality) and I give my assurance that I want to be an inclusive Prime Minister that values freedom and that means freedom to be who you are and love who you want," Bridges says.
I ask him about the two most relevant LGBT+ pieces of legalisation under consideration currently – the private member's bill to ban gay conversion therapy and the Births, Deaths and Marriages amendment bill, known as "gender self ID" which would give greater freedom to those within the transgender community to change their legal gender.
The ban on gay conversion therapy has yet to be drawn from the private member's ballot, while the 'gender self ID' bill is being reworked by the Government on the advice of Crown Law.
Bridges doesn't want to commit to which way he would vote on either proposal and says the ball in Labour's court. He does say he views the practice of conversion therapy as "abhorrent" but has concerns around religious freedoms.
"National has never been the stumbling block. We are broadly supportive, we raised some concerns but none of those should hold up these laws."
Would National introduce legalisation for both if they were to win in November? "I don't know is the answer," Bridges says while reiterating that National are not opposed in principle to a ban on gay conversion therapy or a remodified gender self ID bill.
While Bridges presents as a more modern form of a conservative politician, he still holds to the historic view from centre-right parties such as National, that candidates for parliament be selected on 'merit' rather than on 'identity' a contrast to parties on the left.
"I'm not going to do paint by numbers. If we get the right candidate that shares our values, then I would love that." Bridges states, while defending the fact his party lacks even one openly LGBT+ MP.
Bridges tells me he would love the opportunity to participate in an Auckland Pride Parade should a full-scale event return to Ponsonby. He says he is unsure as to why John Key and Bill English didn't participate but says he would be "totally happy to do so."
There's a sense of excitement in his voice as speaks about the prospect.
I point out that if he does, he would make history becoming the first National Party leader to do so.
"What I wouldn't want to do is distract or be some source of needless controversy" Bridges adds.
Bridges quickly became the source of his own needless controversy in the months which followed that February interview, Bridges' handling of the COVID 19 pandemic was universally panned and National's poll numbers sunk fast as a result.
While Bridges never polled well as preferred PM, his performance became a serious drag on his party. After two disastrous polls showing support for National between 29 – 30% nervous backbenchers decided to act.
Today, Bridges as his deputy Paula Bennett were moved aside by the National caucus for the new leadership team of Todd Muller and Nikki Kaye.
Bridges won't get that chance to make Auckland Pride parade history.
Will Muller?
Photo | Danilo Santana David.