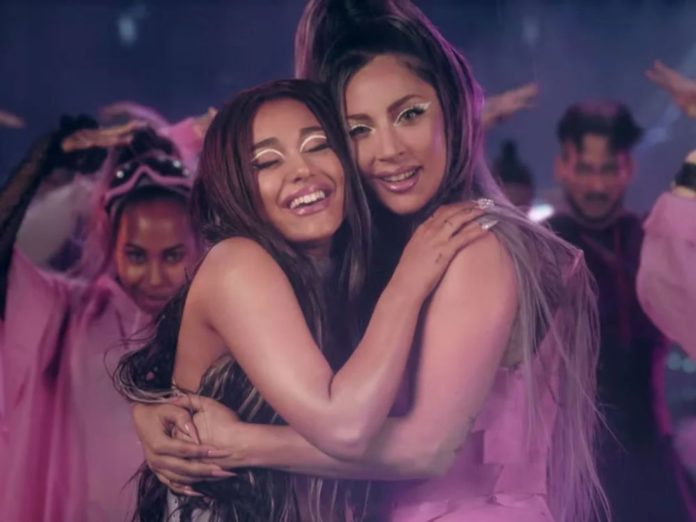 Gaga told Zane Lowe the song is a metaphor for how she used to 'numb' herself with alcohol.
Lady Gaga has unveiled her music video for 'Rain on Me' which features both her and Ariana Grande in PVC outfits and post-apocalyptic urban setting.
Directed by Robert Rodriguez (Sin City, Spy Kids), 'Rain on Me' begins with Lady Gaga dressed in pink PVC and fishnet tights, lying on the ground with a knife in her thigh.
Gaga then comes to life and showcases her incredible dance moves accompanied by a futuristic dance troupe.
Ariana Grande then appears in a purple latex outfit with her own gang of backup dancers.
'Rain on Me' is the second single from her upcoming album, Chromatica, following on from her first song Stupid Love.
Speaking to Kiwi-born Zane Lowe on his Apple Music show, Gaga says the new single is a metaphor her for tears as she battled mental health problems and her alcohol consumption during that period.
"[Rain on Me] is also a metaphor for the amount of alcohol I was taking to numb myself. I'd rather be dry but at least I'm alive, rain on me."
Gaga tells Lowe that she has not yet cut alcohol out of her to day to day life completely.
"I've flirted with the idea of sobriety. I'm not there yet, but I flirted with it throughout the album,' she said. 'It's something that came up as a result of me trying to work through the pain that I was feeling.' Gaga says.
"But part of my healing process was going, 'Well, I can either lash the hell out of myself every day for continuing to drink, or I can just be happy that I'm still alive and keep going and feel good enough,' she continued. 'I am good enough… I'm perfectly imperfect."