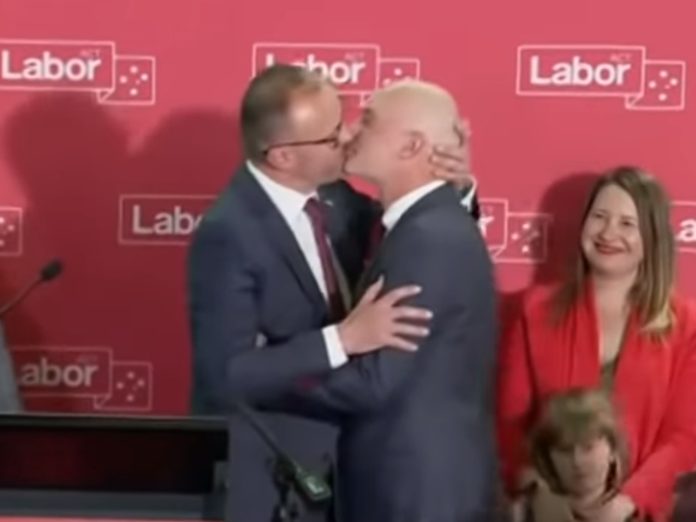 The kiss happened live on Australian television with Lady Gaga's Edge of Glory playing.
While overshadowed by the vote in New Zealand, (even though the later was not televised live on free to air Australian television) the election in the Australian Capital Territory was once again historic.
Australia's capital territory returned its incumbent Labor and the party's openly gay leader on Saturday night.
Chief Minister Andrew Barr secured another four years for his government and sealed his victory by kissing his husband on live Australian television.
Barr and his husband, Anthony Toms walked out on to the stage to greet the Labor party faithful while Lady Gaga's "The Edge of Glory" played in the background.
"We've had an extraordinary series of challenges thrown at us, as a city and as a community, and we've got through it because we've worked together," Barr told an ecstatic crowd.
"We've got through it because we've applied progressive values to our government decisions and because we've applied compassion and we haven't left people behind."
Shortly after taking the stage, the ACT Chief Minister kissed his partner of 20 years, who he married last year.
"We met in this city, been together nearly 21 years, about to have our first wedding anniversary," Barr said.
"Anthony, I love you."
Barr is the first member of a same-sex couple lead a party to victory in Australia, ever.
Congrats on a good win ⁦@ABarrMLA⁩ ⁦@Canberra_Labor⁩! Here's the magic 'I love you, Anthony' moment from the Chief's #ACTvotes victory speech – one for the history books. #auspol pic.twitter.com/olL3ZI8Xlo

— Chris Wallace (@c_s_wallace) October 17, 2020