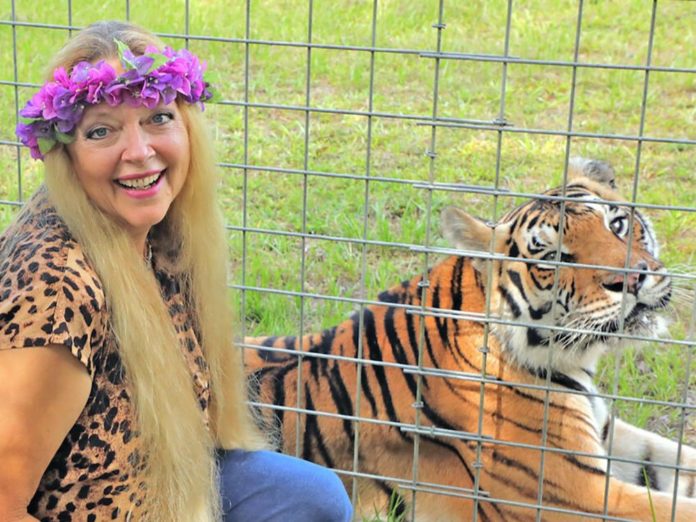 Joe Exotic is not the only LGBT star of Tiger King.
Joe Exotic's arch-nemesis Carole Baskin has come out as bisexual.
Tiger King primarily follows the story of Joseph Maldonado-Passage, an openly gay zookeeper also known as "Joe Exotic," with Baskin serving as Exotic's arch-nemesis who had led a long campaign to shut his zoo down, accusing Exotic of animal cruelty at his Oklahoma compound.
Seven months after the hit Netflix show premiered, the Tiger King villain is back in the headlines saying she has "always considered" herself to be attracted to both males and females.
Speaking to UK publication Pink News, Baskin says growing up that she "always very male-oriented in the things I did … I never had any mothering instincts or anything, you know, I never played with dolls."
Baskin says it wasn't until she met members of the LGBT community that she realised she was bisexual. "I always thought that there was something off there, that I couldn't quite put my finger on. But it was during the '80s that I discovered that through dealing with the LGBT community that I realised I had just as equal feelings for women as I did for men.
"I have always considered myself to be bisexual. Even though I've never had a wife, I could just as easily have a wife as a husband."
News of Baskin's love life was central to Netflix's Tiger King documentary series, with one episode of the series dedicated to exploring the mysterious disappearance of her former husband Don Lewis in 1997.
The disappearance of Lewis remains an open case.
Joe Exotic was convicted of trying to hire someone to kill Baskin and is currently serving a 22-year prison sentence.