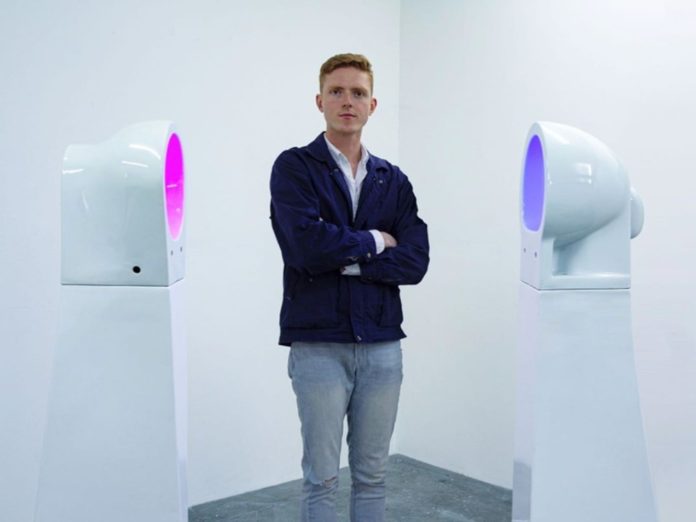 Artist Oliver Cain only graduated from Unitec this year, but he is already taking the New Zealand art scene by storm with a multitude of arts awards under his belt, all before he's even had his first solo show. Express find out more about this pop art protégé.
Föenander Galleries will play host to Oliver's first solo exhibition Relatively Fruity, on from 24 September – 13 October as part of Artweek Auckland. Relatively Fruity is a platter filled with different flavours of his practice that will take audiences on a journey of his creative development, showcasing the wide variety of mediums Oliver works in, from dripping bubble gum, disco coloured frames to glossy clinical white ceramic objects. The influence of pop art and artists such as Andy Warhol, Damien Hirst, William Morris and Jeff Koons who have been an inspiration to Oliver throughout his journey as an artist can be seen in his work, which is playful and seemingly light-hearted with serious undertones. "It's inspiring to see artists whose work can change an industry or a part of history", Oliver says. His work is filled with personality and is an extension of himself, which makes it all that much more joyful when someone connects with his work.
As a member of the queer community himself, Oliver sees the importance of using his work to examine, question and criticise the relationships between gender and sexuality as well as society's misconceptions around these topics. While much of his work can be read as purely erotic and queer, there is a universial insight at play that reveals itself slowly for those willing to look and feel. Oliver particularly enjoys pushing the viewer into an uncomfortable space but not over the edge – wanting them to experience something different – or to step back and to think about a topic in a different light.
Oliver knows the topic of sexuality can be quite confronting for some people and so he aims to make work that isn't immediately in your face, just enough to draw people in and to let them question it, letting people discuss and enjoy his work before they know what it is or what it means. Letting his art speak for itself and allowing the viewer to interpret it however they please. He finds it fascinating how those who aren't in the queer community connect with his work, as he says, "One doesn't have to be gay to find a phallic banana entertaining or beautiful".
With this exhibition and with all of his work, Oliver hopes that he can challenge people's idea of what art can be and that audiences can connect with the story as much as the actual work itself. His hope is to have people question and ask why and come into art with an open mind. As he says, "open minds are how new ideas and loves are formed".
While Oliver has been preparing for his debut exhibition which takes place as part of Artweek Auckland, many other artists around Auckland have too and his suggestion is to go out and support local artists during a time when everyone including the creative world has been struck hard. "There are so many talented people who all have individual stories to tell and they show it through their work, go look and engage in someone's story."
Artweek Auckland 2020 runs until 18 October.