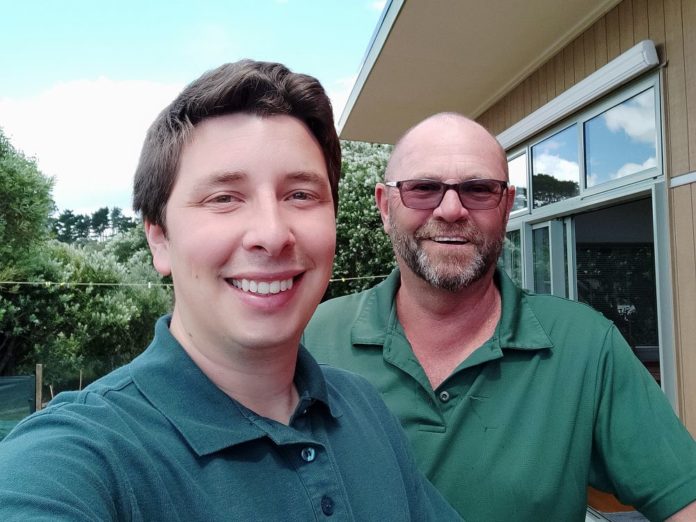 Less than two hours drive from the big smoke, Uretiti campsite has long been a favourite New Years Eve destination for gay Aucklanders. This year, the man behind the camp site's notorious open-air watering hole Daddy's Bar, Steve Farrow has taken over running the campsite with his partner Adrien. He talks to express about his history with Uretiti and the campsite etiquette everyone must follow.
The rainbow community have been a prominent fixture at Uretiti campsite for over two decades. Once a quiet tree-lined campsite with an honesty box – Uretiti has become one of Northland destinations for New Year's Eve.
Steve Farrow was first introduced to Uretiti 15 years ago by an ex, and after falling for the place and getting stung in the leaky homes debacle, Farrow moved permanently to the camp in 2013, unaware that seven years later he would be running the site.
When did you begin the infamous 'Daddy's Bar'?
Daddy's was brought about by accident really. A straight mate and I grabbed a bar leaner from the local pub and had it outside of my caravan. We were enjoying a beer when in the distance someone yells out, "those daddies have got a bar," next minute people started joining us and the rest is history. Over time Daddy's has become a focal point in the camp, not only for the gay community but also the straights that visit.
Tell us about some of your favourite 'Daddy's Bar' moments?
There have been many. Every year I have a great sense of satisfaction seeing so many people visit Daddy's and have a great time. Straight and gay included. NYE is always a special night where you have so many individuals participating in the festivities of the organised party set up by Scott Blackburn and a few other helpers. [Blackburn and co, organise sound systems and lights powered generators, that give the outdoor party a nightclub-like feel.]
The campsite's popularity as a New Year's Eve destination has grown considerably. How early does it sell out these days?
The camp has a maximum number of 1000 people and this year was booked out as early as August. The NYE party has evolved over the past few years. I want to remind everyone that it is designed for all campers to enjoy and will not turn into a gay-only concept.
What are the rules in terms of noise and how loud and late music can be played on NYE and the nights leading up to NYE?
Noise is always an issue in the camp when you have 1000+ people especially when you get gatherings of larger groups, the voice volume increases. The rule is no noise after 10 pm including music – and this will be enforced every night. The one exception is NYE where the limit is all music must be turned off by 12.30 am and all large gatherings are disbanded by 1.00 am As it is a family camp all campers must consider others. And for those who want to continue, it is recommended they go to the beach so they are away from the camping area.
Now two gay men have taken over the running of the campsite, many in the community may presume it will now become a rainbow campsite, but that is not correct is it?
Adrien and I are grateful to have been given the opportunity to manage the camp.I believe as two gay guys running the camp, we have a greater understanding of the communities wants. The rainbow community is more than welcome to come and stay whenever they wish. However, Uretiti will never become a gay exclusive camp. There are rules in place and does not matter whether you are gay or straight, these will still be enforced.
Other than NYE – are there any other times of the year that you would particularly recommend visiting Uretiti?

Uretiti is a great place to visit all year round. Other than the Christmas/New Year period, the camp is busy and bookings are essential for the Waitangi and Auckland anniversary weekends… The best months are Feb through to April as the weather is settled and still warm enough to swim and relax.
You can book your spot at Uretiti and New Zealand's other great Department of Conservation campsites at bookings.doc.govt.co.nz