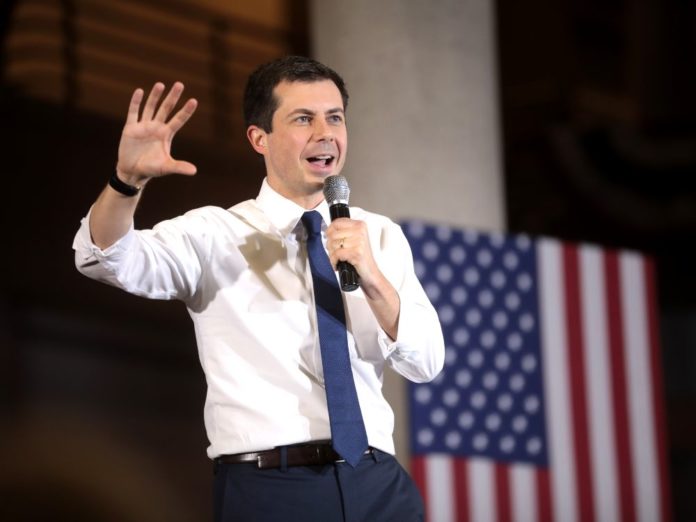 President-elect Joe Biden has chosen Pete Buttigieg to be the United States next transportation secretary in a historic appointment.
Pending confirmation from the US Senate, former Mayor of South Bend, Indiana is set to become the United States next Transportation Secretary and in doing so the country's first-ever gay man to hold a position in Cabinet.
As transportation secretary, Mr Buttigieg would oversee a large federal agency that is responsible for the regulation of America's airlines, transit systems and interstate highways.
Appearing with Buttigieg in Delaware, President-elect Joe Biden said the former Mayor would be tasked with restoring what he called "our crumbling roads, bridges and ports".
Mr Buttigieg acknowledged the historic importance of his appointment.
"I am also mindful that the eyes of history are on this appointment, knowing that this is the first time an American president has ever sent an openly LGBTQ cabinet member to the Senate for confirmation."
Mr Biden highlighted the diversity of his incoming administration as he made the announcement of Pete Buttigieg's nomination.
"The Biden-Harris Cabinet will be a historic Cabinet — a Cabinet that looks like America, a Cabinet that taps into the best of America, a Cabinet that is opening doors and breaking down barriers and accessing the full range of talent … in this nation," Mr Biden said.
"Our Cabinet doesn't just have one first or just two of these firsts, but eight precedent-busting appointments. And today a ninth — the first-ever openly gay nominee to lead a cabinet department, and one of the youngest cabinet members ever."