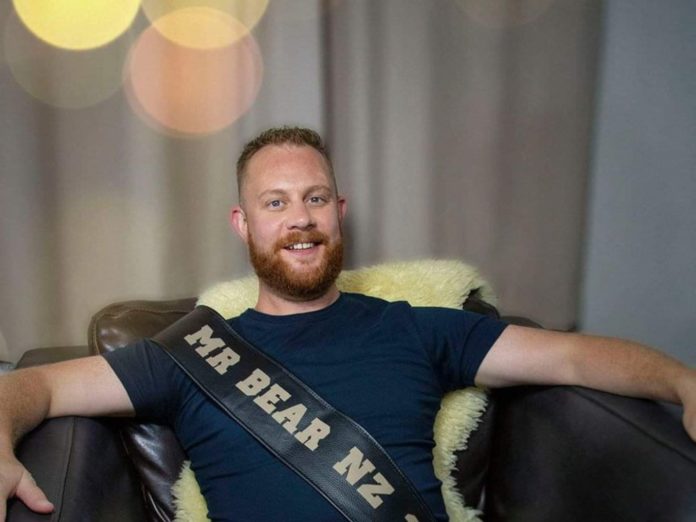 Corie Boley looks forward to Bear NZ Week and representing our diverse bear community in 2021.
Bear New Zealand Week 2021 will run from January 26 to February 1 and will see the return of the 'Bear Drag Race' and 'Bear Divas Dinner', the 'Funny, Furry, Fierce Comedy Night', the 'Underbear Party', the 'Bear Harbour Cruise' and the 'Tri-Nations' dance party.
Due to the cancellation of Southern Hibearnation (Australasia's biggest celebration of Bear Pride) in June 2020, current Mr Bear New Zealand Corie Boley will wear the leather sash for another year.
Corie says he is enjoying his time in the sash travelling around New Zealand and connecting with other local bear communities. He hopes he will get to Melbourne to represent New Zealand with pride in his new home country.
"My motivation to become Mr Bear NZ last year was to give back to the community which had so warmly welcomed me and my husband, Todd, when we migrated from the USA," Corie says.
"Moving here was made so much easier by the New Zealand bears, we were embraced with open arms, there was no judgement, and I felt so accepted that I put my hand up for the opportunity to wear the sash.
"As Mr Bear NZ, I strongly advocate that the community is very inclusive of all people regardless of whether they fit the image of what might be thought as the stereotypical bear or not.
"The Bear community in New Zealand is a spectrum of people, some of us fit the shapely hairy beardy stereotype of a bear but many of us do not, we are simply a group of like-minded men gathering for fellowship and fun," Corie says.
Given that the border is closed, Corie says he is encouraging all New Zealand bears to travel to different events around the country during 2021 (especially Bear Week) to support other communities whenever possible.
For more information on Bear NZ Week visit bearnewzealand.co.nz