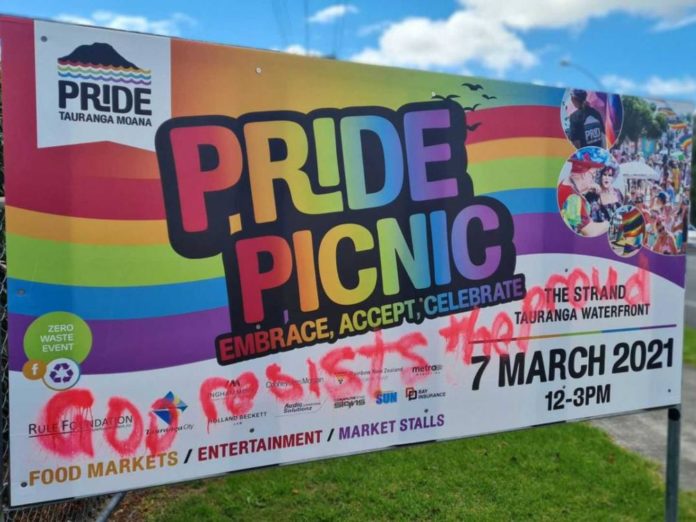 The act has been labelled 'appalling,' meanwhile this year's event has been cancelled due to COVID-19.
An act of vandalism has left one LGBT community member in Tauranga "lost for words."
Former co-organiser of Pride Week Tauranga Gordy Gray-Lockhart says he was saddened to see graffiti scrawled across the face of the billboard advertising Tauranga Pride.
Written in pink paint across the billboard was 'God resists the proud.' The sign was advertising Tauranga's annual Pride picnic which was meant to be held on Sunday but has since been cancelled for 2021 due to the latest COVID-19 outbreak in Auckland.
Gray-Lockhart said the message, and gesture was "appalling".
"I was lost for words at how thoughtless people could be."
"We are in 2021, where the pride movement is all about celebration, 'you be you'. It doesn't matter what you believe in, you should be celebrated. You believe what you want. That's fine."
Tauranga will not host the event this picnic this year.
While there was discussion of postponing this year's event, the picnic has been cancelled for 2021.
Tamara Raimona told media it was upsetting to have to cancel, given all the effort that was put into hosting the event, but COVID-19 had left them with no other choice.
"The risk just isn't worth it."