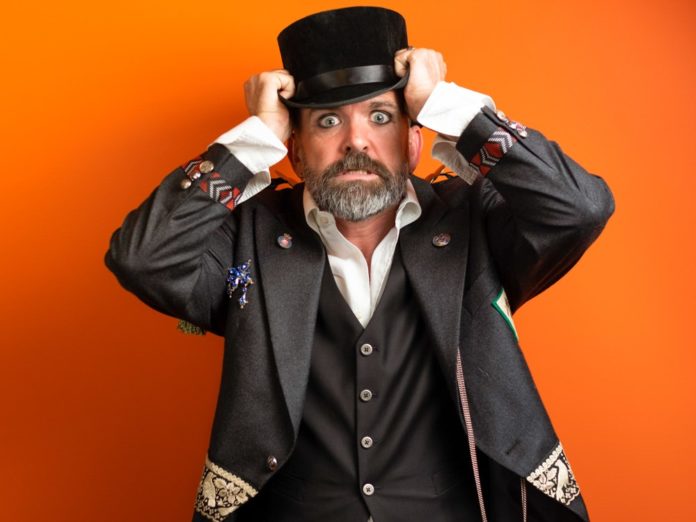 Comedian Neil 'D'Bear' Thornton presents his guide to cruising, dating and drinking on the gay scene without being a jerk. Some of you should take notes!
I know I'm your favourite comedian, but if you see me on Scruff, in Ivy Bar, or in a towel at the spa – I may not be your cup of tea.
I'm 50, chubby, hairy, loud, with an itchy beard and questionable taste, not to mention – American!
So you're not attracted to me? That's 100% okay. Plenty of folks (including my husband) want to get naked with me. But do us all a favour: whatever it is you don't like about someone, keep it to yourself.
Spend 5 minutes on any app or in any gay bar and you'll see all kinds of bottom-shaming, fem-shaming, slut-shaming, kink-shaming, body-shaming, age-shaming, not to mention flat-out racism, misogyny, and transphobia. I promise, whatever you're looking for on Grindr, you can say it without making everyone else feel bad.
"No Fats. No Femmes?" Ugh. Block! My apparent masculinity is a thin veneer over a giant Madonna fan. I love my fat femmes. We can fuck, order a pizza, and watch Drag Race; all without shame.
If you name a racial preference on your Grindr profile, you're letting the world know you're a racist, and all the smart, compassionate people you want to marry, will block you.
Most queer folks grew up knowing nothing but shame. We were bullied by peers, rejected by our families, misunderstood and misgendered. Maybe that's why we're all so good at shaming each other.
And can we talk about HIV shaming? It blew my mind to move from NYC, where people are open and comfortable with HIV positive people, to New Zealand, where the positive men I've known loved and slept with have been called dirty disease-spreaders and worse.
Get with it. Too many have died for me to put up with your poz-shaming bullshit. First, stop putting the word "Clean" in your profile (which implies that people with HIV are dirty) and do a 30-second google search on U=U.
U=U means Undetectable=Uninfectious: "People living with HIV who are on antiretroviral treatment and maintain an undetectable viral load for at least six months do not sexually transmit HIV." – nzaf.org.nz
If you don't want HIV – great! Get your (delightfully) slutty ass on PrEP toot sweet, use condoms, or if you're really scared – don't have sex with anybody ever. Anyone who discloses that they're poz before a sexual encounter deserves your respect. In my experience, you're less likely to pick up HIV from a person who is poz and undetectable than if you bareback with people who say they're negative and use the word "clean" – especially if that allows you both to consensually negotiate how you want to handle safe sex.
Please, do what you can to reduce the stigma surrounding HIV, and maybe we'll all get on PrEP, get tested, get on meds, become undetectable and this fucking virus will go away.
Being rejected sucks enough without being shamed for things we can't do anything about. You can simply not have sex with people you're not into. And don't let anyone else shame you into doing anything you don't want to do.
Live your best life. If you want the freedom to dress how you want to dress, like what you like, and most importantly fuck who (and how and how much) you want to fuck, you need to give everyone else in the community the same freedom.
See you at Centurian!
Neil Thornton's (much funnier and less preachy) NZ International Comedy Festival show Circus of Shame plays from 11-15 May at Cavern Club in Wellington.