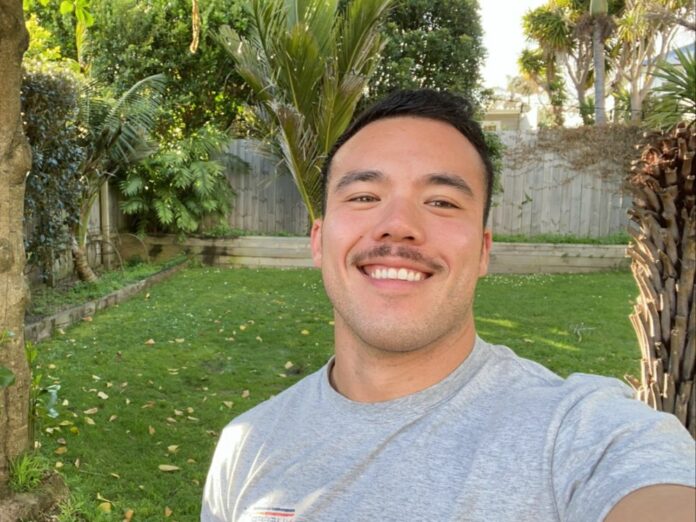 Wolfgang Rieg is a player on the NZ Falcons gay and inclusive rugby club. He is spending Lockdown scrolling through the socials, eating for six, and "gagging to be a nuisance in Europe!"
Tell us about your Level 4 Lockdown.
Luckily my work's not impacted by this Lockdown – so it's business as usual, just from the (dis)comfort of my own home. Outside of that, I'm trying to keep myself busy with going for walks, spending hours scrolling through the socials, and of course, eating enough for a family of six.
Luckily my flatmate got to borrow a barbell and some weights from his gym. It means I can (at the very least try to) balance all the food with a bit of exercise.
What are your top tips for express readers who are struggling with self-isolation?
What works for me is having a bit of routine. No matter how tempting it may be to stay in bed a bit longer, try to get up at the same time you would outside of lockdown. Schedule in a bit of exercise outdoors, eat regularly – do all the things that you know are good for you.
What is the most positive aspect of self-isolation you've experienced so far?
As it turns out, all my hobbies involve seeing other people, spending money on dumb shit I don't need, and drinking and eating way too much. While I miss all of that dearly, lockdown's meant that I'm saving that money at the moment.
In support of local businesses, I'll make it my mission to spend every single cent of those lockdown savings once we can!
What are you missing most about 'normal life'?
I think prior to this lockdown, we were pretty lucky in that life was pretty normal in Aotearoa throughout most of 2020 and 2021. I'm looking forward to being out of lockdown this summer, catching up with mates, going to the beach, and maybe the odd cheeky summer festival too.
Outside of that, I miss being able to hop on a plane and visit friends and family overseas. I'm absolutely gagging to be a nuisance in Europe (basic, I know)!
What will be the first thing that you can't wait to do when regular life resumes?
"You know what really I miss, mum? Going to the pub and getting literally legless."
Moving forward is there anything you think you will change about your life following self-isolation?
During every lockdown, I've started going for runs in the morning. It's not something I'd ever consider outside of being locked up at home. But when there's nothing else to do, you get desperate…
I hope it's a habit that'll stick with me when we come out of Level 4 – but let's be real. Cardio? Not for me, thanks.
Is there a closing message you would like to share with our gorgeous LGBTI+ community?
I want to acknowledge that it's completely normal for your feelings to be a bit all over the place – that doesn't make them any less valid! This isn't a time to thrive, surviving will do for now.
Check-in on one another. But that also goes both ways – if you need help, reach out. Don't be a martyr!
Ps: get vaccinated and make sure your friends and family do the same!