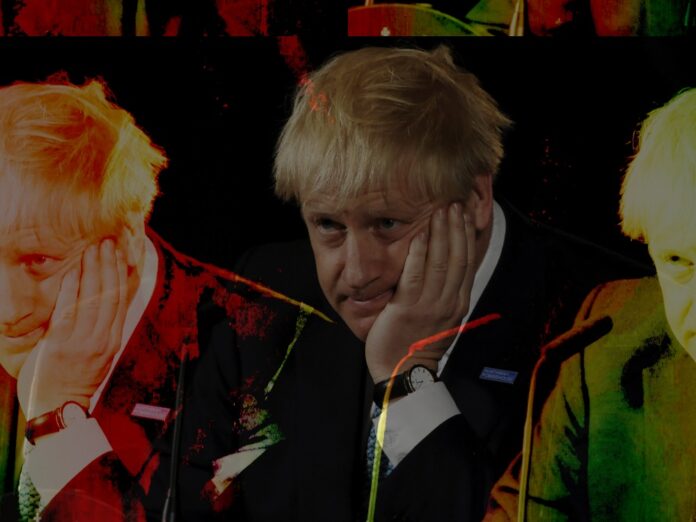 UK Prime Minister Boris Johnson is facing criticism from LGBTQ+ health groups after mixing up HIV and AIDS again.
Johnson's comments were made while speaking about vaccines and advances in medical research during his address to 200 business leaders at a Global Investment Summit.
According to
The Telegraph
, during his speech, Johnson discussed "the sheer improbability of what humanity has achieved in the last 18 months" and stated, "We still don't have a vaccine for AIDS, we don't have a cure for the common cold. But within a year, the appearance of COVID-19, this lethal new virus with this uncanny ability of transmission, we have forged an entirely new set of armour for our species, and it's getting stronger."
Johnson's comments are not the first time he has faced criticism for mixing up HIV and AIDS. Notably, in April 2021 when Johnson confused HIV with "AIDS or whatever" during a live broadcast of the UK government's COVID-19 briefing.
Speaking with PinkNews, Matthew Hodson, who is the executive director of Aidsmap, explained that he was disappointed by the Prime Minister's comments and his mix up of HIV and AIDS.
"It is disappointing that the prime minister cannot distinguish between HIV and AIDS," Hodson explained.
"Ignorance leads to fear and stigma, which creates barriers to HIV testing and treatment and help to perpetuate this disease" – Matthew Hodson
"It's been almost three years since this government committed to ending new HIV transmissions by 2030. PrEP works. Effective HIV treatment prevents transmission. Even without a vaccine to protect against HIV, we have the tools we need to end this epidemic – and we have an action plan to reach that goal," Hodson adds.
"I would urge the prime minister to make the commitment needed now to resource that plan. Ending HIV would be a glorious legacy."
Also showing concern, Danny Beales, head of policy and campaigns at the National AIDS Trust, highlighted that Johnson's comments show his poor understanding of HIV, something that unfortunately still exists in the UK.
"Our recent polling of 3,000 people indicated that large proportions of the public are still confused about how HIV is transmitted and don't understand the realities in 2021 of living with HIV," Beales said.
"HIV and AIDS are different conditions. The overwhelming majority of people living with HIV in the UK do not develop AIDS – a condition when serious illnesses are caused by a weakened immune system."
"HIV is now a treatable life-long condition. The vast majority of people in the UK living with HIV are on successful treatment, which means they cannot pass on the virus. It is vital more people know these basic facts about HIV today."
Beales concluded, "We hope the prime minister and his government will take the opportunity of the HIV Action Plan currently under development to address these issues of poor understanding about HIV and HIV stigma. New investment in public awareness campaigns and improving understanding of HIV and AIDS will be essential in achieving the goal of ending new HIV transmissions by 2030."