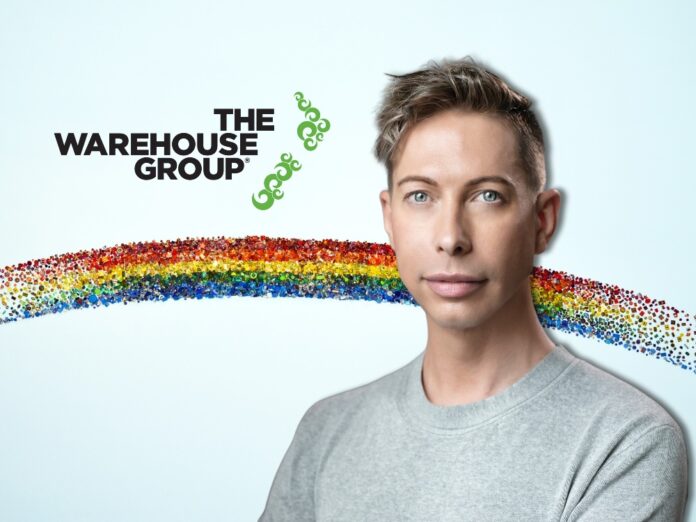 Designer Jade Turner is a well-known friendly face of NZ's LGBTQI+ scene. As Creative Director and Lead Designer for The Warehouse Group's Home and General Merchandise, he tells express about what it means to work for a company that embraces his identity and celebrates diversity.
WHAT DOES YOUR ROLE AS CREATIVE DIRECTOR INVOLVE?
Together with a very talented team, we creatively set the trend and product direction for the company. That means thinking about our customers first and designing products and ranges that we know Kiwis across the county will love and want to showcase in their homes.
WHEN DID YOU REALISE HOW LGBTQI+INCLUSIVE THE WAREHOUSE GROUP(TWG) WAS AND DID THAT INFLUENCE YOUR DECISION TO WORK THERE?
The Warehouse Group has always prided itself on its connection to the community and that was a big drawcard for me when I first started. I remember my very first interview, I walked in and the interviewer said: "I love your creativity. I love what you stand for, but tell me, how can we, as a company support you?"
It made me feel like this was a company that stands behind their employees and helps them grow and achieve, without prejudices of my sexual orientation or how I identified. During my time here this has been proven. The Warehouse Group really is authentic in celebrating people, family, culture and identity.
"When you get together to celebrate Love and Pride, your workmates suddenly become your work family."
WHAT INSPIRED YOU TO GET INVOLVED WITH TWG'S INTERNALRAINBOW NETWORK?
I remember designing our #KIWIPRIDE logo and working on the creative for the first warehouse Group Pride float for AucklandPride Parade and their first stand at the Big Gay Out. We put a call out to the company for volunteers, and anyone who might be interested in showing support and the overwhelming number of responses we got was mind-blowing! From the CEO to our store members across the whole country, there was so much love, excitement and pride. It's funny, you work with people every day and you kind of forget that everyone has a story, but when you get together to celebrate Love and Pride your workmates suddenly become your work family.
IN YOUR TIME WITH TWG'S RAINBOW NETWORK WHAT ACHIEVEMENT HAS MADE YOU MOST PROUD?
Firstly, achieving and maintaining the RainbowTick accreditation, and the Transgender SupportPolicy we implemented in 2017.
The Warehouse Group also has a Pride@TWG Workplace group offering LGBTQI+ team members and allies a safe space to search, share, collaborate and post everything TWG Pride-related.
Personally, I am most proud of the ongoing connection that The Warehouse Group has to the community – not only proudly marching in the Pride Parade supporting its staff members, but also being involved in other Pride events such as Big Gay Out or Wellington's Out in the park. We have also refurbished Outline's safe space. Offering our skills to Outline by doing what we do best, donating beautifully crafted and designed homewares, to a space that connects and supports the rainbow community.
WHAT DOES PRIDE MEAN TO YOU?
For me, Pride is an ethos. A way of living, connecting and being. It's seeing yourself and letting yourself be seen. Pride is community, freedom and creativity, and most importantly visibility. Visibility of what we have fought for, achieved, won and what we continue to do to inspire others.
WHAT WOULD YOU LIKE TO SEE ACHIEVEDFOR NZ'S LGBTQI+ COMMUNITY IN 2022?
In our diverse community, I would love to see more LGBTIQ+ creative representation in the retail sphere. More creatives pushing the boundaries but also connecting to the communities that mould them. Let's be clear, Pride doesn't just start and end in February. Itis year-round. A lifetime commitment. There is no shortage of pride to go around. So have#KiwiPride in who you were born to be and share it with the world!