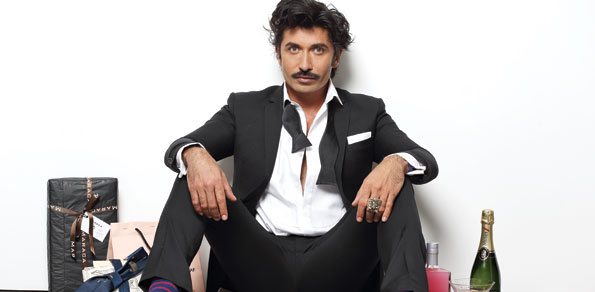 NZ's naughtiest party boy Colin Mathura-Jeffree celebrated his 42nd Birthday in style last month with over 100 guests at his Bond-themed party.
"Artistic and a powerful intelligence," is the surprising response Colin gives as I dare to ask a question he rarely answers; the attributes of his perfect man? "Someone to challenge my opinions.
I'm not interested in people that hold me up to be better than them. The perfect man is his own man, knows music, argues his point and kisses so passionately that I can't feel my legs." For a gentleman who is so often in the public eye, Colin has managed to keep his relationships private, but his answers prove he is a romantic at heart. "He surprises me with things as cute as a walk and talk with ice cream and secretly holds my hand at dinner," he concludes.
He tells me he defines personal happiness as 'honesty'. "The moment you are not honest about any given situation, you will not be happy." Among the glitz and glamour of his party Colin certainly looks happy. He confides that he doesn't 'fear age'. I ask where he sees himself at 50. "Ideally still fit, hot and hard. Maybe I'll be a silver fox at last. Nothing is sexier than being a man of a certain age and 50 is seriously sexy… We can all age with dignity and class. I won't be an older gay man acting like a silly young twit. Don't they realise they look like sad ugly extras from a zombie apocalypse?"
Work wise he claims to be busier than ever with his resurgent modeling career, a campaign for Tourism Australia and working with SkyCity on his own branded Indian restaurant.
He is unsure if New Zealand's Next Top Model, the TV show that made him a national name will return to our screens but seems unconcerned. "I loved it, but I think it might have past its use by date. I was cast in an international Top Model show and turned it down as they had me doing twice as much as the other hosts for the same price. I have self-respect. Pay me, don't play me!"
Tune in tomorrow as we bring you Colins how t guide for throwing the best party.
Article | Oliver Hall
Photos | Danilo Santana David  www.danilophoto.com
Make Up | Christina Lajdes at Ruby Jack
Thanks to Simon from Famous Vodka & Mac Cosmetics.