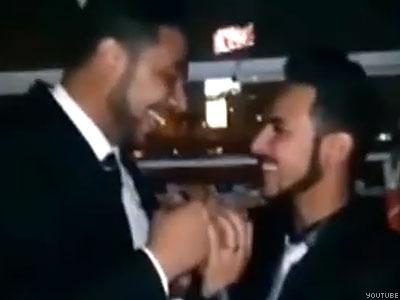 The eight Egyptian men who appeared in a 'gay wedding video' have been sentenced to 3 years behind bars for 'spreading indecent images and inciting debauchery.'
The video at the center of the case was  filmed in April on board a Nile riverboat, and appeared to show a pair of men exchanging rings and kisses as friends cheered them on.
The video then went viral in July, and in September, the men were arrested as Egyptian police sought an estimated 16 people allegedly featured in the video.
The men were first charged in September when a public prosecutor's statement said that the images were "humiliating, regrettable and would anger God", concluding that they constituted a criminal act.
After the arrest of the eight men in September , the prosecutor in charge of the case, ordered the coroner to carry out physical examinations of the men as part of the investigation, after which they "tested negative" for homosexuality. The test involved an invasive "medical" examinations that included forced rectal examinations after which Egyptian investigators concluded the men arrested had never had sex with other men.
The examinations have been condemned as demeaning and unnecessary by international human rights groups and the United Nations.
The sentence was met with uproar from the families of the defendants after it was handed down, while the defendants stood silent in the court room cage as the verdict was read. The defendants families then demonstrated outside the courthouse in downtown Cairo, but were quickly cleared by police.
The sentence can be appealed.
Article | Levi Joule