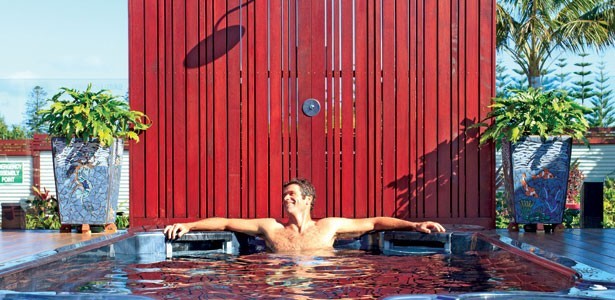 Oliver Hall discovers that Norfolk Island, Australia's smallest territory is also its most forward thinking.
Back in September Norfolk Island caused a stir when the self-governing landmass put forward a bill to allow same-sex marriages on their shores, even when the mainland did not. That bill has yet to be decided in the courts, but it says a lot about the feisty little community who reside there.
Only an hour and a half's flight from Auckland, a few things set this 34.6 square kilometre paradise apart from many of the Pacific's other islands. For one the mild subtropical climate has little seasonal variation, so there is no monsoon season to avoid. Secondly the food is actually decent and you don't have pay (in Australian dollars) through the nose for it.
Norfolk Island's laws prohibit the importation of fresh fruit and vegetables, so produce is grown seasonally and mostly organically on the island. There are over 30 cafes/restaurants on the island picking their produce daily from their own gardens. They call this the 'paddock to plate' food experience.
The Island's delicious offerings were celebrated last month at their first annual Taste of Norfolk Food Festival. Taste joins the many other exciting festivals the Island has to offer such as the renowned Country Music Festival in May, which many visitors base a holiday around.
Though small and embracing of a slow pace of life (the speed limit is 50 km/h) the island still offers plenty to do such as fishing, snorkeling, and hiking through the National park. Culture too is in abundance, the island even has its own unique language,'Watawieh yorli' means, 'hello, how are you all?'
The newly established gay-friendly holiday accommodation 'The Tin Sheds' has brought a new level of luxury to the Island. The Tin Sheds offer 5 star modern, sophisticated apartments secluded in beautiful gardens; complete with pool and pleasure centre!
Providing you with a true Norfolk relaxation experience The Tin Sheds go beyond the typical, offering packages tailored to their guests, such as combining the use of Norfolk's World Heritage listed golf course for sport enthusiasts. They also give guests the chance to really explore the island with complimentary full use of a cute little Fiat 500 convertible for the duration of their stay.
Air New Zealand flies direct to Norfolk Island every Sunday. While daily flights to and from the Australian centers, present the opportunity to 'do the triangle' and party hard in Sydney for a weekend before heading to Norfolk for some R&R before returning home.
Captain Cook described Norfolk Island as 'paradise' when he found it 1772. Isn't it time you discovered paradise too?
Visit www.tinshedsnorfolkisland.com and www.norfolkisland.com.au
 Article | Oliver Hall