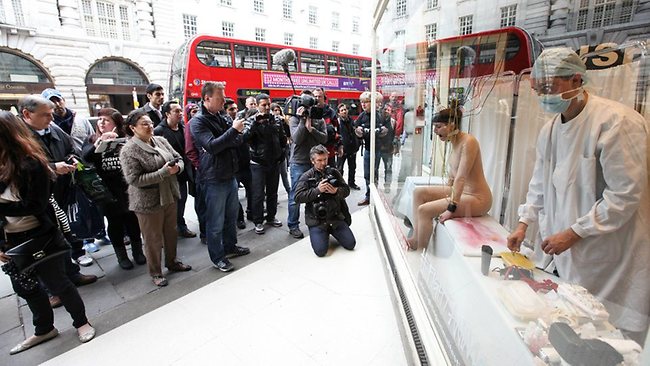 Some surprise stocking fillers, leave Ginger O'Neil obsessing over weird and wonderful natural cosmetics.
In the past, the toiletries I used were dictated by what was on special at the supermarket. It actually wasn't a bad way of trying a variety of products and finding what worked for me. But as I got older and my pay cheques, a little bigger, I made the promise to myself that I would only eat free-range and only use products that weren't tested on animals.
It was only after making this decision that I realised how much of the products lining our supermarket shelves still are animal tested! Now my grocery and cosmetics bills are bigger, but at least my conscience is clear.
This Christmas a funky friend who shares my values gave me a colourful box chocker with toiletries from Lush – that crazy stores that you can always smell from halfway down the street.
Back in 2012 I had seen some pictures of their anti-animal testing campaigns at their Regent street store in London, where they recreated some laboratory scenarios usin human test subjects in the shop window. It was a full on scene and a statement with serious impact. I approved!
So here's what I got on Christmas Day and what I'd recommend you trying:
Honey Bee Bath Bomb:
Bath bombs are a Lush signature and honey is a prominent ingredient in many of our most popular products. Unfortunately I was really disappointed with this one. It turned the bath pee yellow (I realise this would be a plus for some people) and I found the sweet scent of honey and orange too faint. Instead I would recommend trying the divine It's Raining Men shower gel that really feels like you are drenching yourself in honey and flowers, or if (like me)
you are a bath addict even in summer, swing for a softening sensual Sex Bomb which turns your bath into a magnificent magenta, with a powerful jasmine pong.
'Dirty' Toothy Tabs:
This toothpaste alternative blew my mind. My mum told me they are reminiscent of tooth powder, which they used to se in the pre-paste days. Floride-free and packaged in a little cardboard, the size of a match stick box, I could see that these little tablets (which you chew on, then brush) would do the environment a big favour. 'Dirty' is a spearmint flavour that features through out Lush's product range. For teeth, it wasn't as powerful as I would have liked, which makes me keen to try alterative fragrance Ultrablast (which adds peppermint and wasabi to the mix) next time. I can't say I see myself totally abolishing toothpaste from my bathroom anytime soon, but I like the idea of having a box of toothy tabs at my work for an after lunch and post-coffee clean.
'A French Kiss' Bubble Bar:
Unlike the bath bombs that you pop into the bath once it has been run, the bubble bars need to be crumbled into the water as it's running and create foam. Not exactly mountains of bubbles, but suds that seem to last much longer than your typical liquids from Radox and the like. 'A French Kiss' created one of the nicest baths I've ever had! Gorgeously soft water with a heavenly fragrance of rosemary, coconut and lavender. A dreamy treat!
Aqua Marina Fresh Cleanser:
Like no other cleanser I have ever tried, and I don't want to go back! All natural ingredients (aside from a little perfume) and only a bit of sea salt in there to preserve; it's use by is only about three months after it's packaging date. A pinkish clay-like paste with a not-unpleasant seaweed-like smell; add water to a pea-sized amount to create a cleansing milk. My skin can be sensitive so I was sceptical, but with ingredients like organic aloe vera and irish moss gel, it was soothing even on sunburn and didn't seem to dry my skin at all. After using it a few times I felt it was also leaving my pores looking good, like you'd expect from a facemask! I'm raving about this one!
'Soak and Float' Solid Shampoo:
Solid Shampoo bars promise to do away with all the wasted shampoo bottles that we throw away and if this 'soak and float' is anything to go by, I'm impressed. This is a seriously pungent smelling bar with a fragrance that reminds me of burnt wood. Personally I love smelling it, my partner on the other hand can't stand it. However as long as I use a fragrant conditioner – he's tolerant! It's distinct smell is due to cade oil (from junipers) in it's ingredients; used for it's scalp soothing properties, and on my head it worked a treat.
'Grass' Shower Gel:
My final treat was this earthy smelling green shower gel. It definitely won't appeal to those of you who like your sweet floral scents (I recommend checking out their yummy 'lolly-like' Snow Angel fragrance if you do), but much like my kale smoothie in the mornings, 'Grass' feels like it is doing me good! It's ingredients like fresh wheatgrass (grown in Bondi) and Sandalwood Oil that provide it's forest-like fragrance, and using it a few times my skin was left feeling soft and sexy! Just what the naturopath ordered!
Article | Ginger O'Neil.