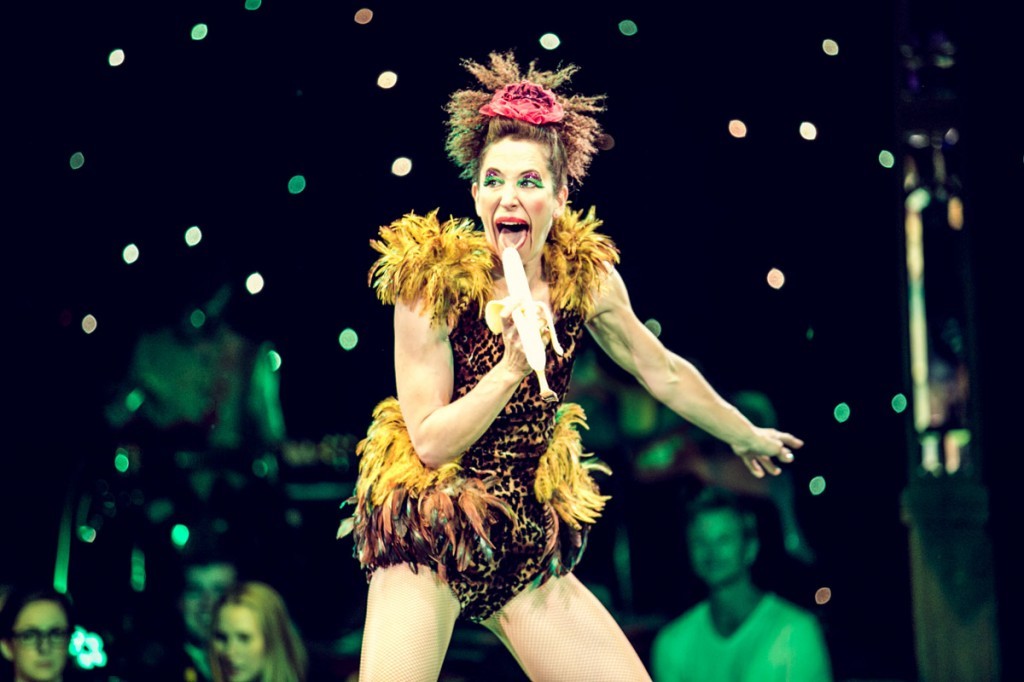 As express walked into Wynyard Quarter's new Spiegel tent we expected Spiegelworld's Empire to be the same suggestive cabaret and circus tricks we've seen before. Underestimate this sizzling show at your peril. It's the hottest thing you'll see all summer!
Now that Auckland has truly taken over as NZ's creative arts and culture capital, if you have the luxury a taking in multiple shows a month. You quickly realise – nothing is perfect. And it was with that in mind that we approached Speigelworld's Empire expecting a bit of fun over a glass of wine that was doubtful to leave any lasting impression. We were wrong.
Opening in New York in 2012, Empire has toured internationally ever since and the result is a polished uplifting ninety minute show that goes beyond anything you'd expect to see from a raunchy cabaret with acrobatic acts.
The three aspects that blew us away most about Empire are the music, characterisation and chemistry.
The largest jewel in Empire's weighty crown are hosts Oscar and Fanny, who fulfil their MC duties by combining the roles of ring master and clown with such feverish energy and unexpected masterful characterisation, that they (literally) have their audience eating out of their hands (and later mouths).
Played by New Yorkers Jonathon Taylor and Anne Goldmann, Oscar and Fanny are presented as a bawdy swinging couple. This is stamped with an exclamation in their first act – a slick magic trick that sees Oscar change Fanny's dress numerous times, when she decides to perform the same trick on him, he is left standing in his birthday suit in the middle of the round. Yes Empire is a show that presents full-frontal male nudity in it's opening 15 minutes. And Oscar and Fanny revel in it! "We just wanted you to know what sort of f**king show you came too," announces Oscar over a microphone, now dressed in drag and gleefully licking the head of every bald man in the front row. Fanny too is soon topless – performing an ever so awkward striptease on a seriously shy but cute male audience member. Goldmann is such a refined showgirl that it really seems to be unimportant how wooden her participant maybe – she pulls the whole act off with vigor!
When Oscar and Fanny aren't lighting up the stage, there are a selection of avant-garde circus performers from around the globe to blow your mind in one way or another. Every act seems hell-bent on getting a vocal reaction from the audience; ideal for an intimate space like the Spiegeltent where the atmosphere catches quickly.
Opening act Miss A in a Bubble, is a contortionist who falls from the ceiling in transparent ball and proceeds to crutch her spin in mind-boggling hairpin bends. She is followed by the Gorilla Girls, three Ukrainian beauties who arrive in stockings, suspenders and gorilla masks. Just as we presume they will be a straight forward burlesque act, here to entertain the husbands; one of the girls removes her mask, climbs onto the others shoulders and performs a 720 degree summersault that sees her nearly touch the tent's ceiling. Stunts like these looks so impressive performed in a small space and you could feel the tent's atmosphere notch up a couple of levels with their performance.
Personally the 'spin top on driftwood' act that followed didn't do it for us, but the audience were in such high spirits by this point it didn't matter. That same performer –' 3D Garaffiti Guy' Memet Bilgin, returned later for his far superior closing act – the 'Sanddorn Branch Balance', a slowly-paced breath-taker that is too special for us to spoil by writing about in this review.
Other acts of note include the seriously sexy roller skating couple who looked like they could literally spin off the stage at any second, and the performers known as 'Lime Green Lady and Carrot Man', who's strength and balancing act was pretty hard to judge as the half-naked performer Vlad Ivashkin was just so dreamy, he could have stood their and read the paper and we would have still been entertained. The chemistry of all the performers made it seem like they must be as intimate away from the stage as they are on it and increased our fascination further.
All of the acts were backed with music from live two-piece, Miss Purple and Moondog. Miss Purple aka singer Ashley Loren delivered flawless covers and reworks of big modern hits including Katy Perry's Firework and a gorgeous acoustic take on Zedd's Clarity! Their soundtrack enhances the show, gluing together this fabulous night out.
Spiegelworld's Empire runs until Sunday 15 February. Tickets from Ticketek. We guarantee you'll never look as Bananas in the same way again!
Article | Oliver Hall.