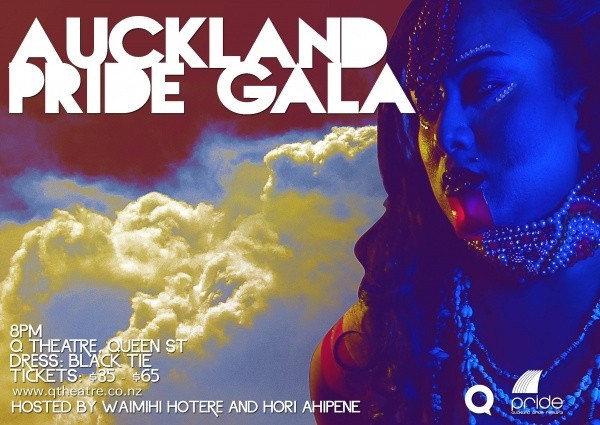 Despite production problems, 2015's Gala showcased what is shaping up to be an energetic and fun filled Pride Festival. 
Hori Ahipene and Waimihi Hotere co hosted what could be described as an evening hampered with a few technical difficulties. Despite the minor setbacks, the pair were funning and fabulous with their unscripted and at times muddled delivery of lines.
Starting off the evening was the Michael Parmenter, choreographed 'Prelude to Jerusalem', performed by Taane Mete to music composed by the late Mahinarangi Tocker. Unfortunately, the performance was cut a little short, with the lights cutting out towards the end. Thankfully, there was to be an encore performance in the second half however.
The audience then sat through more darkness with the lights not coming on for the first few numbers from drag divas Buckwheat, Tess Tickle and Bumpa Love. When the lighting was sorted, the audience were treated to a stunning performance from the legendary trio who looked absolutely stunning in their white and silver gowns.
Pacific Island Performing Arts closed the first half of the show in impressive Polynesian style.'Freak Show' playing at the Mangere Arts Centre during Pride will be a must see.
The second half of the gala did enough to keep the crowd interested. Chris Olwage's Black Swan was stunningly beautiful and without a doubt the best non musical performance of the night.
Ramon Te Wake's wowed the audience with her performance of Tribal Moments and for this reviewer was the highlight of the gala.
Closing the evening was Hilz King and Edwina's stirring rendition of Venus which had more than a few people out of the seats and dancing along.
All in all, a fantastic showcase of some of our community's very best. If the gala was anything to go by, 2015's Pride Festival will be highly energetic and the most fun filled yet.
Article | Levi Joule.
Venus – She's got it with Hilz and Edwina