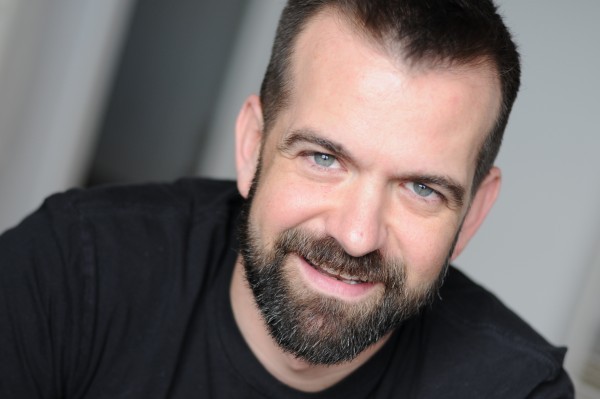 We've had a lot of fun getting to know the community comedians who'll be splitting some sides at the up and coming International Comedy Festival. In the final of the series chat with sexy bear Neil Thornton, and naturally we enquire how he would cope with the now legendary second anus!
What's the funniest line you've ever heard?
Hard to choose, but one of my favorites jokes is by Emo Phillips: "I got in trouble once on a date. I didn't open the car door for her. Instead, I just swam to the surface."
If you had to hook up with just one other comedian at this year's festival who would it be and why?
Don't tell him I said this, but with that beard, Dai Henwood is totally my type of pocket bear cub (also known in the bear comminity as an ewok). Don't tell my husband, either.
Please tell us a bit about your comedy festival show? 
Bearly Kiwi is a solid hour of hard-hitting fast-paced comedy. My husband and I moved to New Zealand a year ago, so it's loosely organized our first year here, so expect comparisons between America and New Zealand (New Zealand wins), but I'll also be making fun of lots of other things: gay married life, homophobia, awkwards gigs in small towns, bear culture, and lots more!
Why should every express reader attend your show?
I love making everyone laugh–male and female, gay and stright, twink and bear, and everyone in between or uncategorized. But I need my LGBTQI people in the audience! After doing gigs for 40 confused sheep farmers in Winton, I'd MUCH rather have a big queer audience any day–or at least a contingent to laugh at the jokes the straights don't get.
What's the dirtiest joke in your show?
I'm not giving that away, but you'll learn some new things, maybe the definition of "cockshot?" I will tell you this: I once told a joke so dirty I made the audience at a gay nudist colony gasp.
If you had a second anus what would you do with it?
I'd never lose my iPhone.
So you're having a dinner party and you can invite 5 GLBT's living or dead – who do you invite and why?
For wit and lessons in comedy: Oscar Wilde, Harvey Fierstein, and John Waters.
For general awesomeness of being: Neil Patrick Harris.
For eye candy: a shirtless Hugh Jackman (I know he's not gay, but he can pretend).
What would you serve?
Cosmopolitans, martinis, manhattans, pinot noir, champagne…Did you think we'd eat? Ok, I might get a steak for Hugh. He could eat it with his bare hands and then I'd lick the juice off his…. wait, what were we talking about?
Please complete the sentence: I will die happy if…
… if one day homphobia is considered as laughable as believing the earth is flat. If not that, then maybe if I can feed Hugh Jackman a steak.
What three things must every one reading this article do before the end of the year?
1) Do something thrilling you're scared to do (bungee jump off a bridge, go to a leather party, try stand-up comedy)
2) Spend a whole day doing nothing productive and refuse to feel guilty about it.
3) Go see live stand-up comedy, especially my show "Bearly Kiwi."
Neil Thornton performs BEARLY KIWI at Auckland's Classic Studio (Thu 14 – Sat 16 May) and Wellington's VK's (Tue 5 – Sat 9 May) as part of the 2015 NZ International Comedy Festival. Visit www.comedyfestival.co.nz for more info.