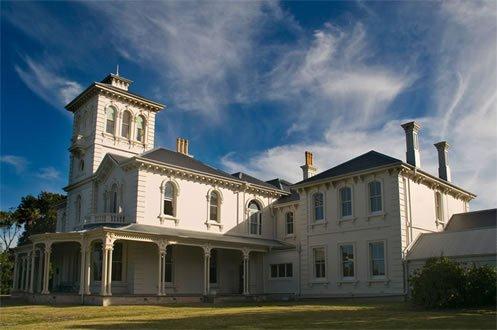 The TSB Bank Wallace Arts Centre has welcomed the 500,000th visitor through the doors of the beautiful Pah Homestead since opening to the public less than five years ago.
The Wallace Arts Trust have been tracking visitor numbers since the Arts Centre opened in August 2010 and one lucky visitor marked this milestone on Saturday 7 March 2015.
The Wallace Arts Trust together with TSB Bank compiled a prize pack that was awarded to Peter Jones as he entered the Arts Centre, consisting of a TSB Bank account with $200 and a selection of Wallace Arts Trust produced publications.
Peter Jones, Deputy Principal Kōtuku Whānau at Maurewa High School, generously decided to donate half the $200 prize money back to Arts Centre and half to Manurewa High School's Visual Arts Learning Area.
Visitor numbers to the Arts Centre have averaged over 100,000 each year since opening and many people continue to enjoy the regularly rotating contemporary art exhibitions, stunning Monte Cecilia Park and the Pah Café.
The Wallace Arts Trust would like to thank TSB Bank for their support and enthusiasm, as well as for their generous contribution to this awarded prize. TSB Bank has been naming rights sponsor since 2009.
'The TSB Bank Wallace Arts Centre is a unique part of Auckland's celebrated arts culture – and we're proud to support it', says TSB Bank Auckland Regional Manager, Steve Nemeth.
Article | Levi Joule.