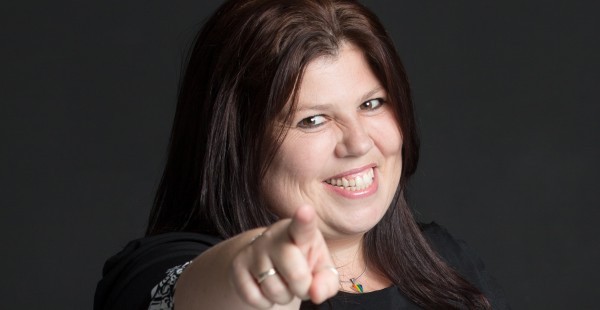 We get to know the community comedians who'll be splitting some sides at the up and coming International Comedy Festival. Run for your lives! It's Urzila Carlson!
What's the funniest line you've ever heard?
I don't want no photo of your racist dolphin! – Wanda Sykes. If you haven't listened to her stand up you are missing out on great bits in life.
If you had to hook up with just one other comedian at this year's festival who would it be and why?
When you say "hook up" do you mean in a adult play time way? If that's the case, it's just wrong I'm married!!! However if I have to pick it'll be the hottest woman in NZ Comedy, Irene Pink but if you mean "hook up" as in hang out or do some shows with then I hope it's Justine Smith, she's doing a new show and she's great to hang out with.
Please tell us a bit about your comedy festival show? 
It's called Man Up, and it's all about manning up and how there are different rules for the "other" parent if it's not the father.
Why should every express reader attend your show?
Because I'd like to see them and they want to go out and it's good to have a laugh. Also there will be some nudity in the show*.
What's the dirtiest joke in your show?
I don't know yet but I'm open to suggestions, if people want to email me some dirty jokes I can put it in.
If you had a second anus what would you do with it?
Well funny you should ask that, I've been trying to convince my wife for years that I do…. However if I was ever blessed enough to have two ANAI I would like one in the palm of my hand so I can shoot the shit at people like Spiderman. Imagine how amazing, someone talks shit and you just shoot a stream of shit at them. Also a anus in the palm of your hand takes road rage, or any other kind of rage to a whole other level!
So you're having a dinner party and you can invite 5 GLBT's living or dead – who do you invite and why?
Elen Degeneres 2. Oprah & Gail 3. Freddie Mercury 4. Elton John 5. Maria Bello
What would you serve?
I would probably go safe and serve a potato curry, because who doesn't like curry and Oprah likes to carb-load and by the looks of it so does Elton and I don't think a potato curry gets enough love at dinner parties.
Please complete the sentence: I will die happy if…
Oprah popped round for a visit and as she leaves she says, under every chair in your house is something special!
What three things must every one reading this article do before the end of the year?
Definitely wash your hair.
Donate to any charity.
Apologise for being a bitch to someone.
* There might be nudity, I haven't decided who's going to be nude yet… but there might be.
Urzila Carlson performs MAN UP at Auckland's SKYCITY Theatre (Fri 15 – Sat 16 May) and Wellington's Hannah Playhouse (Tue 5 – 9 May) as part of the 2015 NZ International Comedy Festival. Visit www.comedyfestival.co.nz for more info.