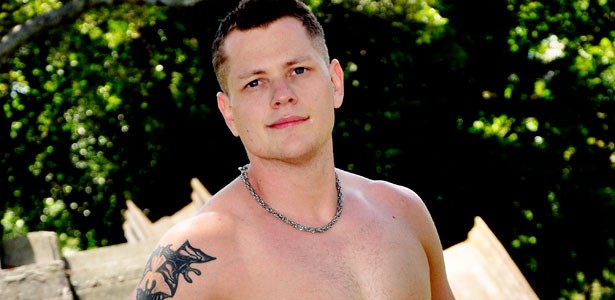 Controversial US bareback porn star Blue Bailey who is currently in New Zealand shooting a documentary on PrEP has drawn the ire of the NZAF.
Blue Bailey who stars in the controversial gay porn film "Viral Loads" is currently in New Zealand to shoot a yet to be named documentary focusing in part on Bailey's advocacy for Pre-Exposure Prophylaxis (known as PrEP) a drug taken by people who are HIV negative, but who have substantial, higher-than-average risk of contracting an HIV infection.
Bailey made an appearance with popular Auckland drag queen Tess Tickle at Encore Entertainment's screening of Ru Paul's Drag Race on Thursday night where he was well received by the crowd and was captured on camera holding up a Love Your Condom banner.
However, the LYC banner holding has drawn condemnation from the NZAF. "It sounds like he's quite confused. Anybody holding up a LYC banner is helping us out. But anybody who espouses condom less sex is not." NZAF Executive Director Shaun Robinson tells express.
Bailey, who is HIV positive gained notoriety with his 2014 "Viral Loads" film, which shocked many safe sex advocates. Describing his role in the film, Bailey says "I was a bareback bottom for about 21 tops and afterwards they poured a jar of liquid with the label 'Poz cum' in my ass." Bailey says that he didn't know whether the semen was HIV positive or not.
Bailey says that the most controversial aspect of the film was an implication that he was HIV negative which was a way for the production company to increase sales of the DVD.
Bailey responses to criticism of the unsafe sex in the film saying he "doesn't view porn as sex education." He says that he has had condom less sex with HIV men throughout his career in porn, but says the sex was still safe "In the 1980's a condom only approach was necessary. But now we have more tools in our arsenal." He doesn't believe the sex he has with HIV negative men is unsafe as they are taking PrEP.
NZAF's Shaun Robinson says that while the use of PrEP can reduce the risk of contracting HIV on a individual level, it does not equate to safe sex.
"Whether he has an undetected viral load or is using PrEP is only viewing the issue from an individual perspective. What we are trying to do in combating HIV is about protecting a community. That is about creating habits, norms and behavior and creating a culture of condom use."
Robinson says that he views Baileys' 'Viral Loads' film as completely irresponsible. "For porn to be presenting a norm of condom less sex and making a very aggressive statement about condom less sex being safe and ok is completely contradicting what the gay community around the world has spent 30 years trying to build up which is a culture of safety.
"You can't make a private sector company be socially responsible, but I would think that no business works completely divorced from their community. The gay porn industry is by it's very nature embedded in the gay community." Robinson says.
"The biggest health issue for the last 30 years for the gay community has been HIV. To say the porn industry has no responsibility for promoting a safe sex message is immoral."
 Article | Levi Joule. Photo | Tux Hika