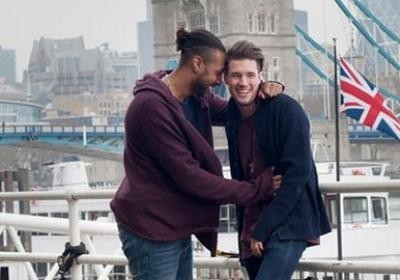 A new ad for online travel company Expedia which features a gay couple has been met with a storm of hatred on Twitter.
Attitude.co.uk reports that online travel booking company Expedia has unleashed a Twitter storm after featuring an interracial same-sex couple in its new promotional material.
The image – which the company first shared on Twitter last Thursday (March 19) – accompanies a competition offering people the chance to win a holiday to the UK. It has since received hundreds of comments, provoking both the best and worst reactions on the social media platform.
Replying to the image, one user said it was "repulsive", and in another tweet wrote "puking violently".
Another user wrote "I hate faggots", and a third responded to those commending Expedia for the campaign calling them "nasty fudge packer."
Links to more of the twitter reaction can be found here
This is not the first time that Expedia has featured a same-sex couple in a marketing campaign. In October 2012, the company produced an advert which showed a homophobic father purchasing a ticket to attend his daughter's marriage to another woman.
There have been wave of firsts in recent months in LGBT-inclusive advertising, with luxury jeweler Tiffany's featuring a same-sex couple for the first time in its 178-year history and traditionally laddy men's grooming brand Lynx including a same-sex kiss in a new TV ad.
Article | Levi Joule.