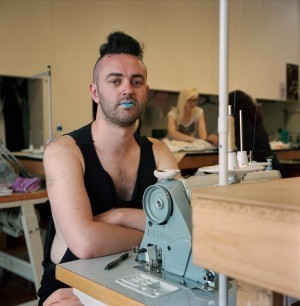 A new exhibition by Wellington artist Mark Beehre uses photographs and oral histories to tell the stories of queer men born since gay sex was legalised in New Zealand almost 30 years ago.
Mark Beehre's exhibition, A Queer Existence, runs at Photospace Gallery in Wellington's Courtenay Place from 10 April to 4 May.
Mark says gay men growing up since Parliament passed the Homosexual Law Reform Act in 1986 have had different life experiences from those who went before them.
"Before that moment, sex between men was illegal and punishable by imprisonment. Family and social pressures forced most gay men to live their lives in the closet," Mark says.
"Law Reform serves as a symbolic turning point when the widespread social condemnation of homosexuality was gradually replaced by increasing acceptance, exemplified by the Civil Union Act in 2005 and then, in 2013, Marriage Equality—finally granting legal recognition to same-sex relationships.
"Along with that came the ever-more-prolific dissemination of 'gay identity' as the means by which men experiencing same-sex desire constructed their identity."
While younger gay men know who they are and can find a place in society their lives are not always easy, says Mark.
"'That's so gay!' has become a widespread expression of low-level derision, and coming out still takes courage and strength. Some schools and families are supportive of queer identities, but in these and other social institutions intolerance often still lurks beneath the surface—even when homophobia, like racism, is outwardly acknowledged as socially unacceptable."
Mark says A Queer Existence sets out to document the stories, visual appearances and subjective experiences of some of gay men growing up since Law Reform.  He hopes to eventually publish the work as a book.
"However, in the exhibition the large scale of the one-metre-square photographic prints gives the images an immediacy and impact that cannot be experienced in smaller reproductions. The photographs are accompanied by a soundtrack drawn from excerpts from the interview, allowing the sitters' own voices to be heard in the gallery space and immersing the viewer in the experiences they narrate."
Article | Levi Joule.