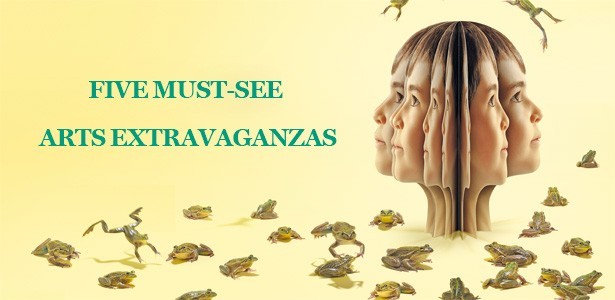 From Groupe F's explosive return to Limbo's fire-breathing theatrics, the express office was too torn to give you our picks from the Auckland Arts Festival because we would have listed everything! Instead we grabbed creative cutie Luke Alexander Wilson to give his thoughts on not to be missed shows:
1. The Book of Everything – Journey to Amsterdam, as told through the eyes of nine-year-old Thomas as he records his fantastical life in his book of everything. Thomas' world is full of wonder, magic and imagination that will enthral audience members of all ages. Brought to life under the masterful direction of Sophie Roberts, The Book of Everything is not to be missed.
March 14 – 22,
Q Theatre
2. Tai Whekuti/House of Death – Lisa Reihana continues her exploration of culture, identity and legacy with her latest multimedia installation. This large-scale work is showing in Aotea Square daily during the festival, so it's an easy (and free) addition to your circuit.
March 04 – 22,
TimeOut Festival Garden, Aotea Square
3. Invisible Energy – Invisible Energy shows six different artists working in response to life post-Tohoku earthquake and tsunami. This show offers a dynamic look at contemporary practice in Japan, including performance, video and printed works. For those wondering what life in Japan is like in the fallout of a nuclear disaster, this exhibition will surely give offer some insight.
February 20 – March 27,
St Paul Street Gallery, AUT University
4. Hīkoi – Nancy Brunning takes up the roles of playwright and director for her debut work, Hīkoi. A family in turmoil in 70's/80's New Zealand struggles with change and the challenges it poses to their identity. Lovers of New Zealand stories and supporters of homegrown talent will enjoy this one.
March 04 – 08,
Q Theatre
5. Black Bird – Lonnie Hutchinson 1997-2013: A Survey – Lonnie Hutchison's work is delicate and whimsical. It's a survey exhibition, so newcomers will get the chance to familiarise themselves with her sculpture, video and paper cut works. For diehard fans it's the closest thing you'll get to a greatest hits so don't miss it.
March 07 – May 02,
Gus Fisher Gallery, University of Auckland
Article | Luke Alexander Wilson. Photos | The Book of Everything: Alt Group
Luke writes about art, directs theatre and studies psychology. He can often be found waxing lyrical or caffeinating (often at the same time.) His latest show, It ends With the Sea was one of the highlights of Auckland Fringe at the Basement.