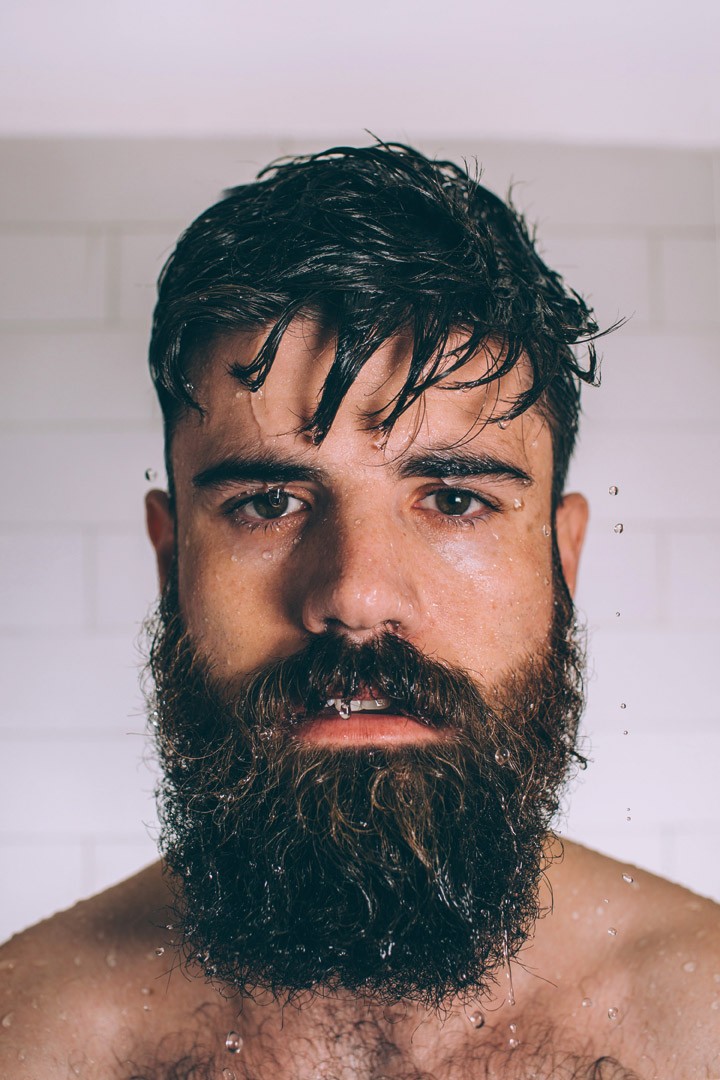 Well you guys begged for it, so we found you one more shot from Andy Russell's shoot with Richard Skins. The  has every reason to me looking this good, thanks to all the skin and hair care products he works with on a daily basis. We decided to have a rummage through his bathroom cabinet to see if we could find the secrets to his rugged beauty routine. The following is what we managed to pilfer before the alarm went off!
Magnificent soap:
No wonder his face looks so good. Packed with a pungent fragrance of mango and mandarin, and big dried chunks of rapeseed and coconut oil, this vitamin E rich bar won't dry your skin. A genuine pleasure to wash with!
American Dream Conditioner:
Like a thick sweet vanilla milkshake for your hair, made with honey, vanilla pods, fresh oranges and strawberries – everyone will want to smell you! Irresistible yumminess!
Granny Takes a Dip Bath Bomb:
Start stock pilling this one for Winter. With warming essential oils of black peppercorns and ginger, an aroma of spiced lemon, this bomb evaporates quickly to give your bath a bright pink hue and leaves a creamy film on the water's surface that creates psychedelic swirls and spirals when you move. Trippy fun.
Sugar Scrub:
This solid exfoliating bar offers spa-like indulgence in your own shower! Super skin softening with a gorgeous fennel scent, just be careful to turn off the shower before you scrub – it will disintegrate in running water!
African Paradise Body Conditioner:
A perfect solution for those who can never be bothered to slap on body lotion after a shower. Simply lather this one over yourself at the same time as you apply conditioner to your hair. This is thicker and more oily than regular hair conditioner, so avoid using it on your head as results will be greasy!
Zest Hair Gelly:
A slippery hair gel that smells like freshly squeezed OJ. All natural so it's not sticky, greasy or glue like; but gives good hold, washes out easily and makes your locks smell good enough to eat.
Dirty Springwash:
Made using the original Lush men's fragrance Dirty; the off-putting thing about this shower gel is that it looks and smells like mouthwash, but, rubbing it all over your body reveals a deeply layered herbaceous scent. With Sodium bicarbonate and sea salt it also leaves skin feeling soft and clean. Get the big bottle – you'll want to keep going back to this one.
Ceridwen's Cauldron Bath Melt:
Perfect for when you want a really special bath. Bound in a muslin wrap, this bath melt is infused with lavender and sandalwood oils. Drop it into a pre-run bath and it's blend of butters melt away, leaving you with a bag of fragrant oats. Over time these make your bath milkier, but if you want to speed up the process you can squeeze the wrap into the water or rub it over your skin for a silky sensation.
Rub Rub Rub Body Scrub:
A must for anyone with dry skin problems. Made with a tonne of fine sea salt, lemon juice and jasmine and orange flower oils, these all natural ingredients ensure irritation is minimal, dead skin is scrubbed away and the under layer is cleansed. You won't give a supermarket scrub a second glance again.
Putty For Your Hands cleanser:
Never one to embrace the ordinary, Lush's hand wash is anything but conventional with a consistency similar to dough! Washing with a chunk of it, leaves the skin on your hands feeling almost 'thicker', with little need for hand cream after.
Enzymion Facial Moisturiser:
It's ingredients read like the shelves of an organic grocer; from aloe vera gel and avocado oil to fresh papaya and lemon. Oily skin is kept at bay, and skin brightening affect kicks in after just a few uses.
Ocean Salt Facial Scrub:
Not for the faint hearted or sensitively skinned! With a powerful pong of lime vodka, it gives you a wake up kick as it exfoliates and tightens to get your face prepped for the big day or night ahead!
With new and seasonal products coming out regularly, we recommend checking out Lush's new innovations at www.lush.co.nz.
Article | Ginger O'Neil.
Photo | Richard Skins.