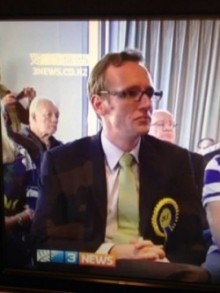 2013 Auckland mayoral candidate Stephen Berry has slammed the current proposal for a Auckland council 'rainbow advisory panel.' Speaking to Levi Joule, he explains why he is opposed to the advisory panel as well as other GLBT related expenditure. 
Auckland council will tomorrow decide on whether the proposed Rainbow Advisory panel will proceed. If created, the panel would provide a voice for the gay, lesbian, bisexual, transgender, intersex (GLBT) community in Auckland, advising Auckland council on the issues impacting the community.
However, one time mayoral candidate Stephen Berry has slammed the proposal. Speaking to express, Berry, who is openly gay says that the idea of a rainbow advisory board is "a complete waste of time."
"The core functions of the council are to focus on storm water, sewage, parks, libraries, roads that sort of thing. A gay perspective on those core functions is completely irrelevant." he explains.
"The advisory boards are a waste of money and completely ineffective."
The concept of a advisory board representing the GLBT community is not workable according to Berry. "There is no such thing as a GLBT community view. I don't see how an advisory board could represent one view. Our views are all so different."
As strongly as he is opposed to a rainbow advisory board, Berry concedes that the proposal is likely to pass given the current political makeup of the council.
Council officers have estimated a one-off cost of $35,000 to recruit members to the panel and an annual cost of $116,880 to operate the panel.
The proposed advisory board is not the only GLBT related spending Berry is against. On the question of whether or not Auckland council should fund events such as Pride, Berry tells express that he is "completely opposed."
"The council is borrowing far too much money, rates are going up too much, it's spending too much. They need to focus on the very basics that are essential to making the city function."
Berry came in third at the last Auckland mayoral election receiving 13650 votes. He was also an ACT party candidate at last year's general election and was ranked 7th on the party's list. 
Article | Levi Joule.