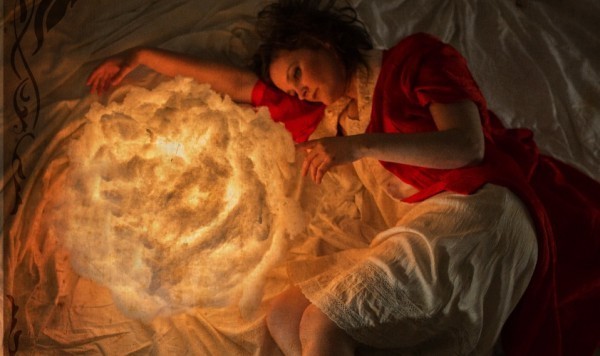 Last year's Night Sky was heralded as one of the creative and critically acclaimed NZ productions of the year. As the Blackbird Ensemble prepare to follow up next week with the debut of their new production Dreams, Oliver Hall spoke to star Claire Cowan about their latest creation.
Tell us about Dreams?
Dreams is an intimate show featuring nine versatile instrumentalists with three vocalists.  We move through music inspired by dreams, nightmares, lullabies and the rituals of the bedroom. The Dream show explores the fragility of our sleeping states; our exposed subconsious thoughts, our fears, and our vulnerabilities. The music is a huge range of different artists and original arrangements – everything from Nina Simone to Calexico, Nick Cave, and Amy Winehouse.
How will it compare to Night Sky?
The night sky was high energy, big, bold and dazzling.. Dreams is more compact, packs more of an emotional punch, and is way more theatrically integrated… there's even a bit of a storyline told through the songs.
Tell us about the Blackbird Ensemble?
It's my fantasy orchestral band project. It grows, morphs and shrinks depending on whatever idea I want to realize. I fall in love with an idea, and then work my ass off to make it happen. Over the years we've had some big successes – last year the Wilderness and the Night Sky were particularly memorable. We played within a forest with real trees, a pond, and a glowing moon…then we played in a space ship with giant projections and aerial circus performers.. I still pinch myself that we pulled all this off as a group with no official funding!
How did you become involved with the group?
Me and a friend organized a concert of Arvo Part's music in 2010 in the basement of an Italian restaurant. I was out of work and so poor, I needed to create something magical in my life to work towards that wasn't about money. We did it by candlelight and crammed a whole string orchestra into an underground concrete bar. The audience loved it, and so did we.. I decided to create more blackbird magic in my life, and it's grown from there. We've done 8 shows in 4 years with just the pennies in our pockets and a lot of good will.
Have you ever had a recurring dream – if so what happened?
I have them before I do shows… usually that I'm on stage and don't know the music, everyone is playing in a different key… and the audience walks out. Pre-show nerves I'm sure!
Please describe your perfect partner:
Someone excitable with a love for life and good taste in shoes. Someone who can sing is super hot. It's nice to be able to connect creatively… Also, Lizzie Caplan!
How was coming out for you? When did you tell your parents?
Pretty positive really, it was the hardest for me to come out to myself I think. Heaps of resistance! I had a set idea of what it meant to be queer, and I kept telling myself I didn't fit that picture. And then I realized I could create my own picture, and be happy just being me. I told my parents about 4 years ago.
What are the most important lessons your parents taught you?
Napping is a useful tool to relax your creative mind. When you awake the solutions to the problems you were struggling with will appear more easily. (I may have put more importance on this than they suggested initially).
They also taught me pretty useful stuff like, when undressing, before dropping clothes on the floor, put them in the drawer. This hasn't quite sunk in yet.
What in your life are you most proud of?
Getting my full motorbike license. And birthing the beast that is Blackbird Ensemble.
Who are your greatest influences?
Growing up my biggest influences were my siblings. (I'm the youngest of 4). Bjork is a big influence on me. Her artistic integrity can't be questioned. Also I think Enid Blyton still has some sort of weird hold over me too.
What can't you live without?
After a brief fling with veganism it's evident I can't live without cheese.
If you could walk a mile in a famous LGBT person's shoes, who's would they be and why?
Freda Stark. She got to dance in gold body paint at the Civic back in it's hay-day. Sounds like fun to me.
What's the best holiday you've ever been on and why?
Two weeks in Greece. The colours were the best! So many pure whites and blues and reds.. everywhere there were guys painting white wash on the buildings, the sparkling blue sea and cloudless blue skies.. and I had the best mandarin gelato of my life.
What's your favourite film?
Strictly ballroom. I wanted to be Paul Mecurio. And Franny. All at once.
DREAMS by the Blackbird Ensemble plays at Auckland's Basement Theatre from Tuesday 14 to Saturday 18 April. For more info visit: blackbirdensemble.com
Article | Oliver Hall
Photo |Striped Tree Productions – https://www.facebook.com/pages/Striped-Trees-Productions/230125087033303?fref=ts