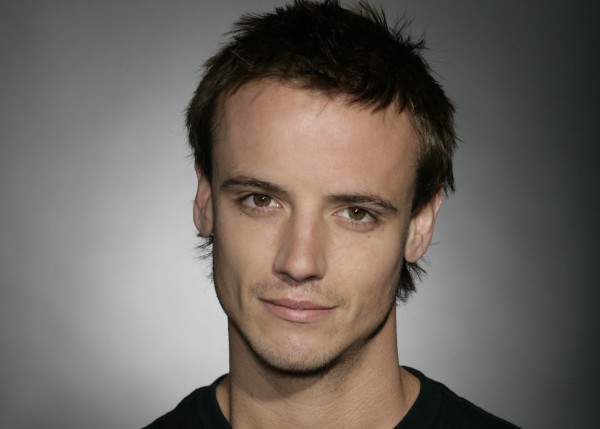 TV3 presenter, theatre director and artist Jesse Peach talks life, love and his new one night only art exhibition Verging on the Out of Control.
Please describe your art?
I draw these faces on everything so I thought I would turn them into paintings and try and get it out of my system.
What do you love about painting?
It's relaxing and expressive. Good time to listen to music, talk on the phone, sing.
Your new exhibition 'Verging on the Out of Control' is described as a 'a demonstration of what happens during creative starvation', is this reflective of your time at TV3?
Haha. … this is art, so you may read into it what you will.
No it was really a reflection of my break from directing theatre, which I'm nearing the end of.
Are you done with television?
No. I need to pay my bills. And I love my job.
What were the best and worst things about being a NZ television personality?
I don't know if I was ever enough of a personality to reap the benefits. But I guess the best thing is that you are interviewing me for this!
Please describe your perfect weekend?
Family and friends and beach and films and theatre.
Please describe your perfect partner:
Who knows. They haven't presented themselves to me.
How was coming out for you? When did you tell your parents?
It was a gradual thing. I was in denial about it for a long time, because of ideas I had about who I was that weren't true. So I had many first boyfriends and all that. My mum used to say "everybody thinks you're gay except you!"
What are the most important lessons your parents taught you?
Be yourself.
What in your life are you most proud of?
My diverse siblings.
Please complete the sentence: I will die happy if…
I plant a forest.
Who are your greatest influences?
Mika, Shia Labeouf, Edith Piaf, Raymond Hawthorne, Patti Lupone, my Gran .
What can't you live without?
My sunglasses.
If you could walk a mile in a famous LGBT person's shoes, who's would they be and why?
Joan Rivers. Oh hang on… is she? (She's not – Ed.)
What's the best holiday you've ever been on and why?
Hard to pick. But probably 4 weeks on my own in New York.
What's your greatest weakness?
I drink too quickly.
What's your favourite film?
A Streetcar Named Desire.
Have you ever had a recurring dream – if so what happened?
Yes. I have this dream where I have forgotten to feed the birds in the aviaries I had growing up. Then I run to look at them and they're all starved and dying, or dead on the ground.
And another one is black voices whispering into my brain.
And on that disturbing note, Verging on the Out of Control – a collection of paintings by Jesse Peach will be exhibited on Monday 13 April from 6pm at Shanghai Lil's (212 Ponsonby Road, Auckland).
Article | Oliver Hall.