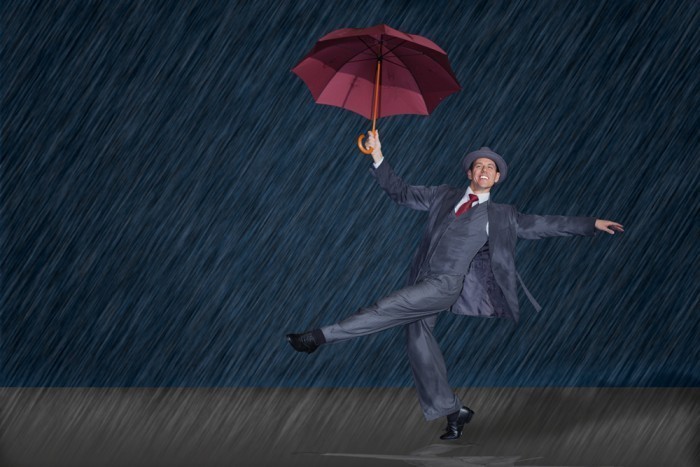 Top South African Musical performer Grant Almirall plays the lead role of Don Lockwood in the massive internationally touring production of Singing In The Rain, which has wowed audiences in Wellington and debuts on Auckland's Civic Stage tomorrow. Oliver Hall caught up with the star.
How does playing Don Lockwood compare to playing Frankie Valli?
Don is a dance heavy role whilst Frankie was a singing heavy part.
For our readers unfamiliar in your own words can you tell us a little about Singing in the Rain and your character Don?
It's based on the movie 'Singin' in the Rain' with Gene Kelly and Debbie Reynolds. Don is a movie star who meets Kathy and falls in love with her. The show takes place in 1927 when silent movies were being replaced by the talking picture.
Your resume lists 'tumbling' as one of your skills – please explain?
I used to do a little bit of gymnastics in high school.
Please describe your perfect weekend?
When I get to spend some time at home with my partner watching some TV series or reading a good book or comic book!
Please describe your perfect partner:
My partner Malan Le Roux is my perfect partner. Kind and caring with a beautiful smile.
What are the most important lessons your parents taught you?
Always have manners, and freedom of expression.
What in your life are you most proud of?
My first-ever lead role was Frankie Valli…
Please complete the sentence: I will die happy if…
… I get to perform on Broadway.
What can't you live without?
My sketch pad.
If you could walk a mile in a famous LGBT person's shoes, who's would they be and why?
Ellen Degeneres. Because you wouldn't walk, you'd dance!
What's your greatest weakness?
Tiramisu.
What's your favourite film?
Splash with Darryl Hanna!
Why should every express reader attend Singing In The Rain?
It's a beautiful show with wonderful music and choreography and an amazing and talented cast; and it rains on stage!
For more information on the show visit singin.co.nz
 Article | Oliver Hall.