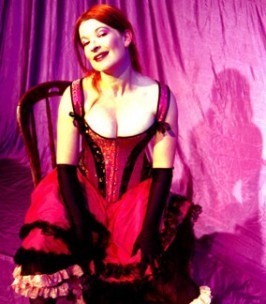 express editor Oliver Hall chats with comedian Penny Ashton about her new Hot Pink show in a no holds barred interview 
What can our readers expect from a Hot Pink show?
Hot Pink Bits is a romp through the knickers of the global sex Trade. I have researched the history of prostitution, B&D, fetish etc.. And put it all together into 60 minutes of song, game shows and interactive comedy that's also informative and makes you think.
What makes this show differ from the others?
Many of my previous shows were saucy poetry shows, and my last show Promise and Promiscuity was a Jane Austen musical. There wasn't so much about fetish sex with Daleks in that one.
What do you love most about jumping on stage ?
I love the immediacy of having a live audience. I have done some TV work but feel the joy drain out of the material with every take. This show is in your face, fun and needs an audience. Making them laugh is really a drug and making people leave feeling entertained, invigorated and energised is a real buzz. Someone once said to me; "Shows like yours add spice to life." I consider that my best review.
What do you get up to when you're not Hot Pinking?
I have started marrying people. Not as a mormon, but as a celebrant. And I love it. I also like to hang out with my Fiance. I like to call him fiance as much as possible.
What are the most important lessons your parents taught you?
Good manners. It's not hard to be polite and have respect, but a lot of people seem to think it is. Mum drilled all the please, thank yous and chewing politely into us at a young age. Thanks Mum. Also Dad has his own karaoke machine, I learned how to change the key on that.
What in your life are you most proud of?
I am proud of having been a self-employed entertainer for 15 years who has travelled the world all off my own hard work. Jaysus Christ it's a struggle at times, and the constant pushing in the face of rejection can be wearing on the soul. But not as wearing, I imagine, as doing a job that I hate.
Who are your greatest influences?
I love Carol Burnett, Bette Midler, Tina Fey, Hilary Clinton and the art of Cabaret in general. Meow Meow is a fabulous artist and I recently saw Jinx Monsoon, who was just a freakin amazing talent. I was so impressed with the cleavage shading trick she used too. Shantay you stay.
What can't you live without?
Lipstick, Red Hair Dye and my fiance. I travel a lot, he doesn't have to be in the room all the time, but Skype, Facebook and Email makes overseas trips a lot more bearable.
If you could walk a mile in a famous LGBT person's shoes, who'd would they be and why?
I recently watched Pride. I LOVED that film and the LGBT activists who helped the miners made me get numerous things in my eyes, especially Mark Ashton (no relation). Recently Louisa Wall is an inspiration and I have loved the same sex weddings I have performed. I think I'd skip representing the country in rugby and netball though. We'd lose.
What's the best holiday you've ever been on and why?
Well don;t hate me but probably our recent trip to Paris for New Year's where I got engaged to my poet. He's tops and so is Paris. No brainer really. I also loved my 10 week Europe trip when I was 22. On this one I ate less bread and cheese in a bunk bed and drank less red wine in parks.
What's your greatest weakness?
Caring too much what other people think and comparing myself to others. That got a bit deep didn't it. Also buying dresses. I have waaaaay too many dresses. More than others. Oh and swearing. I fucking love swearing.
When was the last time you cried?
As a celebrant, two of my friends got married and Dave said the most beautiful things about Lizzie and we all burst into tears. I'm really fucking soft.
Penny Ashton's Hot Pink Bits will be on display at Q Theatre's loft tonight (Friday 1) and tomorrow (Saturday 2 May) at 7.15pm. For ticket info visit www.comedyfestival.co.nz
Article | Oliver Hall.