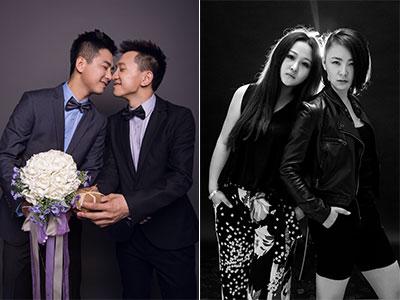 A group of seven Chinese couples have tied the knot in West Hollywood, California. 
Seven gay and lesbian couples wed in a group ceremony held in West Hollywood, after winning a contest whose sponsors included the e-commerce giant Alibaba, its online shopping site Taobao and China's largest mobile gay dating app, Blued.
The couples married on Tuesday at the West Hollywood Library, with their nuptials officiated by the West Hollywood Mayor Lindsey Horvath.
While their marriages will not be recognised in China, they are legal in the United States. If the couples travel to the U.S., they will be able to claim each other as spouses on their forms.
Same sex marriage is not recognised in China, however attitudes towards homosexuality in the communist state appear to be softening.
Homosexuality was severely punished during the Cultural Revolution era of 1966-1976 under a statute forbidding "hooliganism." Officially, gay sex was a criminal offense until 1997, however since China's rapid economic growth and world wide engagement through trade, tolerance towards homosexuality has increased with the Chinese government now taking a somewhat agnostic approach toward homosexuality, neither banning nor endorsing it.
 Article | Levi Joule.