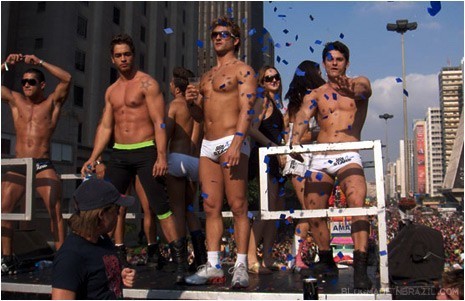 Organisers said they expected upwards of two million people to attend the event, the largest of its kind anywhere in the world.
Tens of thousands of participants danced there way through the heart of San Paulo's business metropolis, waving rainbow flags and carrying pro equality signs at the 19th Gay, Lesbian, Bisexual, and Transgender (GLBT) parade, whose slogan this year is "I was born this way, I grew up so I will always be like this: respect me."
Yahoo News reports that organisers of Brazil's largest pride event say they were expecting upwards of two million people to attend the event.
Brazilian broadcaster Globo indicated the city authorities had spent in the region of $500,000 on helping to organize the event but expected to net around 40 times as much from the tourism the event brings to the city.
Despite hosting one of the world's largest celebrations of GLBT pride, homophobic violence is rife in Brazil, with gay rights groups indicating that last year alone saw 326 homicides of homosexuals, bisexuals and transsexuals and stating that the country sees homophobic or transphobic attacks on almost a daily basis.
 Article | Levi Joule.