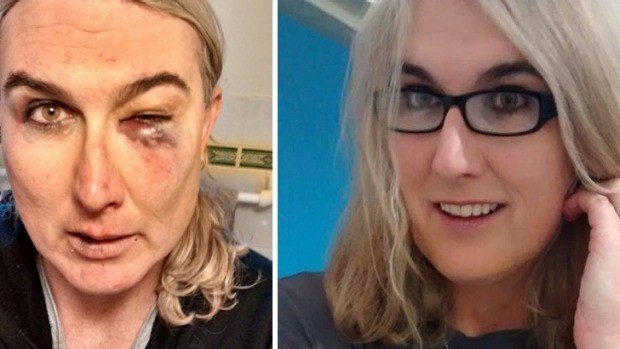 Police last night blocked access to a Sydney pub as hundreds gathered to protest after an attack on a trans* woman in response to allegations the venue did not do enough to prevent the incident from occurring.
Stephanie McCarthy was due to play a gig at the venue on Friday night with her band Love Maul when the incident occurred which left her with a black eye, bloodies lip and bruising.
Around 200 people were estimated to have attended a snap rally in the LGBTI-centric inner west suburb of Newtown less than 48 hours after McCarthy was bashed in the nearby Town Hall Hotel.
"This is not a women's issue, or a transgender issue, or a gay and lesbian issue – this is everyone's issue," she told the crowd.
She blamed the 1.30am lockouts in central Sydney for driving punters to venues in Newtown.
"The diversity in Newtown is what makes it so special and to see it slowly getting eroded by the violence which has been brought in here because of the lockouts — we've got to stand up and stop it," McCarthy told website MusicFeed.
However, anger has so far focused on Town Hall Hotel, known locally as the Townie, over their response to the incident with suggestions the culprits may have managed to leave the venue before police arrived and CCTV footage was too indistinct to identify those allegedly involved.
On the pub's Facebook page a post signed off by "The Townie Management Team" said they aimed to provide a safe and inclusive venue for all members of the community.
"A recent unfortunate incident of unwarranted violence against another person has been both shocking and deeply regrettable," the post read.
"We have taken statements from all bar and security staff and as yet have been unable to find anyone that was spoken to by Stephanie about the men involved prior to the assault occurring."
A further post under the venue's name by someone who identified herself as Sally the "sound lady" said: "What happened last night was shit, we in no way condone this behaviour and have not seen it happen at the Townie in recent years.
"That said, it's a large venue and incidents occur… we remove people frequently and in most cases before anyone can get hurt.
"Unfortunately this time it was not resolved before reaching that point."
McCarthy said the Town Hall did "everything wrong" following the incident, alleged the offender was allowed "to walk out" and suggested the venue was victim blaming.
"They were warned about these guys… but they kept serving them," she said on Facebook.
"And then they get to bash and women and then leave.
"What kind of a message [does] that send to your female patrons?" she added.
"This has been one of the most awful experiences of my life but the Townie is blaming the victim and her friends."
Demonstrators walked to the pub and stood next to the police with banners that read "train your staff" with chants of "no transphobia" and "shame, Townie shame".
Newtown Police have urged anyone with information to get in contact.
This article was originally published by The Star Observer and can be found at www.starobserver.com.au
Article | Benedict Brook