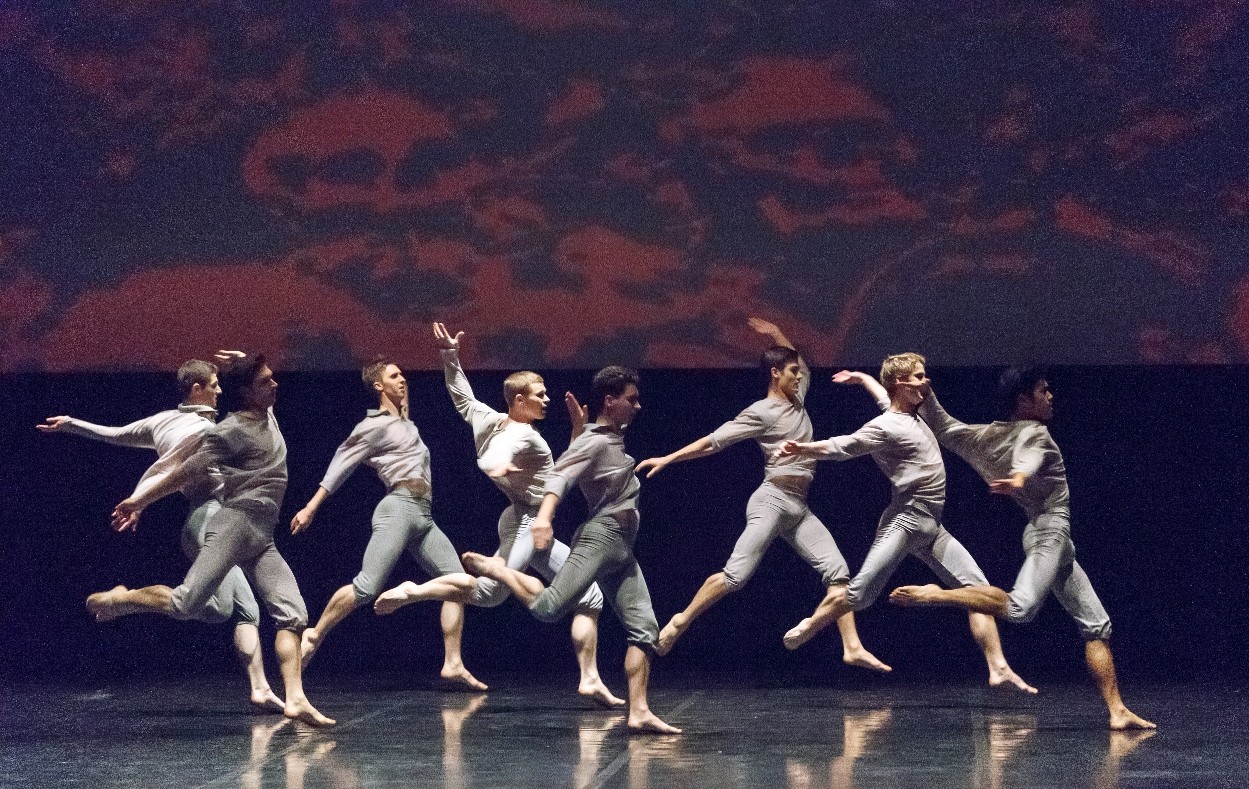 Lithe young bodies leapt, bent arms, swayed, ran swiftly, and lay slack on the stage to draw an enthusiastic Royal New Zealand Ballet audience into the premier Auckland performance of Salute, compiled by the RNZB to honour the soldiers of WW1.
Salute's programme presented four dance works: Dear Horizon, Soldier's Mass, Salute, and Passchendaele.   This last work, the shortest in the programme, was choreographed by Black Grace's Neil Ieremia and to this reviewer, was the most moving and memorable.
New Zealand composer Dwayne Bloomfield's score opens Passchendaele, creating immediately an air of tension around the young soldiers waiting for their orders. Sounds of warfare hang in the music. Behind them, a backdrop of scarlet, blood-drenched mud created by New Zealand artist Geoff Tune for his Red Earth series brilliantly describes the horror that was Passchendaele's battlefield.
The soldier-dancers are listless, thinking of home, but are pulled to a fearful alertness when a whistle blows, forcing them to fling themselves toward the enemy. They engage fiercely, with pride and daring but all too soon, their young bodies are claimed, through bullet and bomb, by Death.
Neil Ieremia's Passchendaele is just 12 minutes – and several lifetimes – long. For audience members whose families formed part of the 845 NZ soldiers killed on 12 October 1917 or the more than 3,000 NZ soldiers maimed on the same day, this performance will have been gut-wrenchingly real.
Salute, the title piece, preceeds Passchendaele, a light-hearted flirtatious Danish dance work celebrating the twin joys of life, love and sex. Its placement in the programme gives audiences a breather from the arena of war explored in the two previous other works, Dear Horizon (music by our own Gareth Farr) and Soldier's Mass.
The dancers inspired. Particularly notable were Laura Jones, dancing a male role in Soldier's Mass with dexterity and aplomb. William Fitzgerald brought grace and solemnity to his roles in three of the four works. But to single out any one dancer does an injustice to all – it was the united energy, skill and emotion of the entire ensemble which made us feel the fear and danger, the determination and pride of those doomed young men in WW1. The ASB Theatre at Aotea Centre was a sterling setting for this excellent and memorable tribute to them by the RNZB last night.
Article | Sandi Hall  Photo | Evan Li