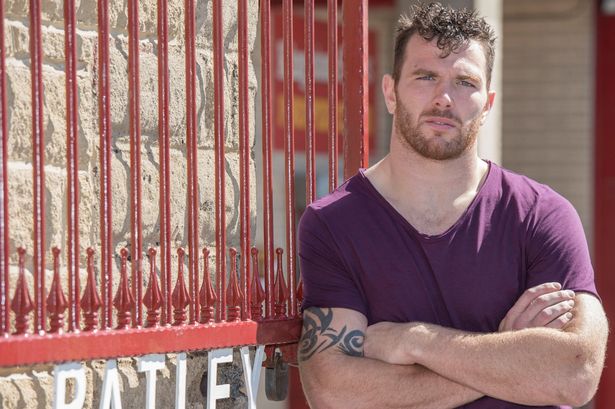 Batley Bulldogs captain Keegan Hirst says "At first I couldn't even say 'I'm gay' in my head, let alone out loud. Now I feel like I'm letting out a long breath that I've held in for a long time."
Rugby League player Keegan Hirst has become the first British professional in the code to come out as gay. Speaking to the Sunday Mirror, Hirst recalls the moment he finally found the words to explain to his wife the reason they could no longer be together.
Hirst, who captains the Batley Bulldogs says that he knew he had to be honest with his wife after he realised she blamed herself for their marriage break-up. "She blamed herself when we ­separated but I knew she'd done nothing wrong. I couldn't bear it any more, the guilt of it all, of her not knowing why I left. It was eating me up."
"I went to her and asked if I could have a word. My stomach was in knots. We sat at the kitchen table and I said, 'There's something I need to tell you."
"I couldn't get the words out, I felt like I was going to be sick. But I managed to say it. She didn't say anything at first. I explained why and how I felt, it was very emotional. We were both in tears. She didn't ask a lot of questions, but she was supportive. She was totally blind-sided. She'd had absolutely no idea" the league player explains.
Hirst says that he has had girlfriends since he was a teenager but began to interested in men when he was 15 years old.Growing up on a council estate and quitting sixth form to pursue his rugby league career, he says he was "in denial" about his homosexuality, convincing himself that deep down he was straight.
Hirst's first match as an openly gay player comes today when he faces local rivals Dewsbury. He is aware he could face abusive chants from some fans but says he will brush it off. "I'm comfortable in my own skin, probably for the first time ever," he said.

 Article | Levi Joule.