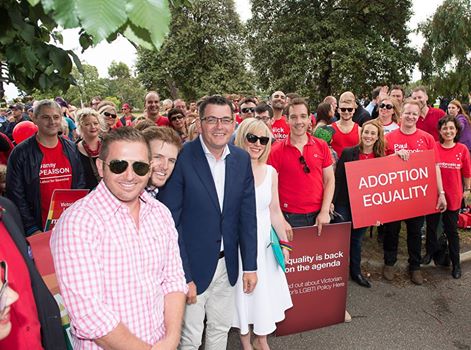 The Australian state of Victoria is set to introduce a new law which would grant same sex couples the right to adoption.
Thousands of same-sex couples with children in the Australian state of Victoria will soon have the right to be jointly recognised as parents under their state law, under new adoption laws to be introduced by the Daniel Andrew's led Labor government.
The Age reports that Labor's move to legalise same-sex adoption also specifically says there will be no exemptions for faith-based adoption groups to exclude gay couples from accessing adoption services, a plan that has been resisted by some religious groups for months.
There are thousands of people in same-sex relationships who have children in Victoria, but the law only recognises one parent, Minister for Equality Martin Foley said. "When this adoption bill becomes law, it will provide much-needed certainty for many children and their parents who currently live in a legal haze in terms of their relationships with the people they love," says Foley.
"This bill will remove discrimination against children and parents in same-sex families."
Mr Foley said equality was not negotiable and that the current rules had been "a black mark in Victoria's equality record for a long time".
 Article | Levi Joule