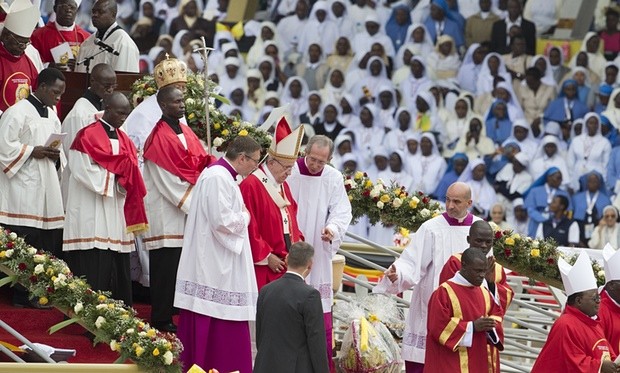 Pope Francis has declined to condemn Uganda's new anti gay law during his visit. 
On the eve of Francis's arrival, the Ugandan parliament passed a bill giving authorities sweeping powers to inspect and dissolve NGOs they suspect of "promoting homosexuality" in a move that could lead to the imprisonment of activists. Critics have said the move is aimed at suppressing criticism of the government.
Uganda's new Non-Governmental Organisations Act means GLBT activists in the country could now face four to eight years in prison.'
On the fourth day of his Africa tour, the pontiff celebrated mass in front of 100,000 people at an open-air shrine to Christian martyrs in Namugongo, 10 miles outside the capital, Despite suggestions that he would. the Pope made no mention of the persecution of gay people in his address, a disappointment to a number of gay rights activists calling for Pope Francis to address the issue.
Failing to address the issue would be "a missed opportunity to protect GLBT persons", activist Frank Mugisha told the Guardian before the Pope's mass.
Uganda has been seen as a bastion of anti-gay sentiment since 2013, with some lawmakers pushing for the death penalty or life in prison for some actions involving gay sex.